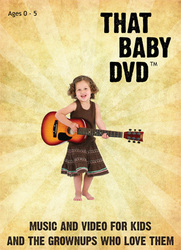 This ranks high on my list of things all mothers should have
Mercer Island, WA (PRWEB) September 3, 2008
Hip moms around the country call it their dirty little secret: The DVD and CD of children's music that they enjoy as much as their kids do. With kid-friendly acoustic covers of artists like Fleetwood Mac, The Pretenders, Natalie Merchant, and Paul Simon, what's not to love? OyBaby LLC, makers of That Baby DVD™ and That Baby CD™, know the secret will be out on September 7, 2008 as the products make their national trade show debut at the ABC Kids Expo in Las Vegas, NV.
After a "soft launch" in late 2007, word-of-mouth buzz earned the products placement at some of the hippest independent baby boutiques in the U.S. and Canada. In May of 2008, That Baby DVD became the first DVD available at Pottery Barn Kids stores, where it and That Baby CD continue to be available in all 94 of the chain's locations.
That Baby DVD and That Baby CD have built a reputation by those in the know as a welcome alternative in children's entertainment. Mommy bloggers rave about the dazzling vocals and soothing visuals of the DVD and sheepishly admit to listening to the CD in the minivan, even when the car seats are empty.
Lisareviews.com wrote "This ranks high on my list of things all mothers should have" and Creaturebug (creaturebug.typepad.com) wrote "That Baby DVD…is beautiful and creative and fun. In short, it's a breath of fresh air when compared to some other music DVDs."
As a parent-run company, OyBaby LLC prides itself on its responsible, customer-friendly approach to doing business. The company's products are manufactured in the U.S. using recycled materials and printed with soy-based inks. They offer a "no questions asked" money back guarantee and free lifetime replacement of scratched discs.
Buyers and members of the press can see and hear the products at ABC Kids Expo booth 1245. As a show special, the company is offering free shipping on orders placed at the show, plus free samples for store demonstration. Members of the press are invited to request a complimentary evaluation copy of both products. Company co-founder Rob Wolf, who filmed, edited, animated and designed the packaging for That Baby DVD and CD will be on hand to answer questions.
That Baby DVD and That Baby CD are sold online at http://www.thatbabydvd.com and at Amazon.com. That Baby DVD retails for $24.95 and That Baby CD retails for $14.95.
###