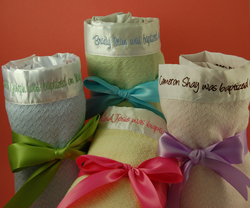 These kids are truly a miracle from God
Dallas, TX (PRWEB) May 15, 2008 - There were anxious moments last week -
as the owners of Fill In The Blankie waited with baited breathe for the next few baby blankets orders to pop onto their computer screen. In just 3 short years, the small Dallas based company had received thousands of orders for their one-of-a-kind baby blankets for newborns, baby showers and baptisms and christenings from all over the world. Being a statistic freak (and a son of mother with her Phd in mathematics) - owner Todd Lilly decided to start tracking how many orders were coming in and going out for each occasion. When the numbers tallied up - the company was stunned to find that they had made well over 9,000 blankets specifically for baptisms and christenings. So they made an internal pact to celebrate their 10,000th baptism blankie by gifting it to the lucky family.
And so - they kept a close eye on Lilly's counter - as the orders started to click closer to the magical 10,000 mark. But, little did they know that orders #9998, 9999, 10,000 and 10,001 would have such special significance…
Those baptisms (and orders) belong to the Gerwer quadruplets of Murphy, Texas; Reid, Cameron, Robert & Brady. These 2 boys and 2 girls were born in January and will celebrate their baptism day on May 18th - at the home of their grandparents. To keep things straight, their busy parents have color coded each twin's belongings. On May 18th dressed up in their colors, each lucky Quad will be adorned complete with their own coordinated personalized baby blankie. The Quadruplets Aunt Monica has written similar, but unique copy to be embroidered along all 4 satin edges for each child's blankie.
Order #9,998 read
Side 1: Reid Josie was baptized on May 18, 2008
Side 2: Precious one, So small, So sweet. Dancing in on
Side 3: angel feet. Straight from Heaven's brightest star-
Side 4: what a miracle you are! With Love, Steve & Monica
Order # 9,999 read
Side 1: Robert Joseph was baptized on May 18, 2008
Side 2: May angels guide your tiny feet and bring you
Side 3: smiles to wear, and may our Heavenly Father always
Side 4: keep you in His care. With Love, Steve & Monica
Order #10,000 read
Side 1: Brady Sean was baptized on May 18, 2008
Side 2: Father in heaven hear my prayer, keep me in thy
Side 3: Loving care. Be my guide in all I do, and bless
Side 4: those who love me too. With Love, Steve & Monica
Order #10,001 read
Side 1: Cameron Shay was baptized on May 18, 2008
Side 2: Precious is she and oh so sweet, tiny hands and
Side 3: adorable feet. Given to us by God above, a darling
Side 4: girl for us to love. With Love, Steve & Monica
"These kids are truly a miracle from God," says cousin, gift-giver, and (most importantly) Baby Reid's Godmother Monica Sagness of South Dakota. "I received a personalized 'Fill in the Blankie' when my daughter was born and was just waiting for the opportunity to buy one (okay… FOUR!) for someone else! The role of being a Godparent is important, and finding just the right gift can be tough… though, not with Fill in the Blankie around!"
From the earliest times, children and infants have been baptized, christened, dedicated and included in the church. This is an important rite of passage and sacred ritual for many Christian families. The Dallas-based company -- FillInTheBlankie.com - provides one-of-a-kind keepsakes in commemoration of this event. With room for 200 characters, a choice of 32 blankets color/styles, 27 fonts and 12 thread colors, each blanket is truly one-of-a-kind… Just like every child - every Fill In The Blankie is unique.
So, once again, Fill In The Blankie will be there (vicariously) at the baptism -- in this case, for the Gerwer family at the very special baptism of Reid (#9998), of Robert (#9999), of Brady (#10,000) and last, but not least, of Cameron (#10,001). The Gerwer's not only hit 4 of a kind and netted out with a (very) full house - but, they got "comped" on all four of the blankies to boot! No doubt, luck strikes in 3's (and 4's).
DID YOU KNOW… Quadruplet Facts:

It's estimated that only 500 sets of quads (that would be four!) are born annually here in the US
The odds of having spontaneous quadruplets are predicted to be 1 in 729,000.
99% of quadruplets are a result of fertility treatments and/or reproductive technology.
For further information, product samples, or interviews, contact
Todd Lilly at 214-969-7474 or todd(at)fillintheblankie.com
###