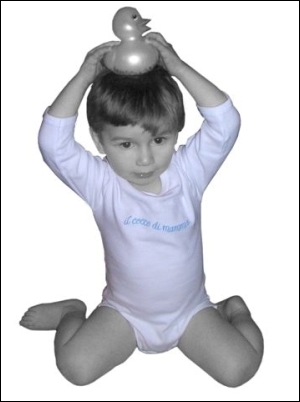 Now every mama's boy or daddy's girl can sport the stylish, yet affectionate sayings.
(PRWEB) December 19, 2006
Recently launched Il Cocco di Mamma (http://www.ilcoccodimamma.com ) has announced its latest baby gifts and children's clothing collections. The online boutique, which was created to celebrate the diversity of many different languages and cultures, is now carrying its signature line of baby tees, as well as a variety of children's books, CDs and custom-made wooden toy blocks.
Founder and designer Donna Bottari, who grew up bilingual, created Il Cocco di Mamma as a way for parents and other mentors to encourage globalization and cultural awareness from a young age. The site carries Bottari's new signature line of classic baby tees, which express common sayings from around the world, including "Ciao!" (Italian), "Que pasa?" (Spanish) and "C'est la vie!" (French). Visitors will find that each hand-designed onesie -- available sizes 0 to 24 months -- is made of the highest quality European cotton.
The newest onesie design depicts the company's name on the front and the English equivalent on the back. The literal meaning of "il cocco di mamma" is "mama's boy," but as Bottari explains the Italian term of endearment is translated as "the apple of my eye" and is used for all little girls and boys.
"We all have our own 'il cocco di mamma,' so it just seemed fitting to create a flagship line of children's clothing revolving around this concept," said Bottari, who personally designed the onesies found on Il Cocco di Mamma. "Now every mama's boy or daddy's girl can sport the stylish, yet affectionate sayings."
The site's unique collection of baby gifts also embraces Il Cocco di Mamma's international appeal. Bottari has hand-chosen each product to complement the timeless style and cultural value of her designer tees. Children will easily build communication and motor skills with the site's fine selection of handcrafted, embossed wooden blocks, which represent seven different world alphabets. The site's library of foreign language books and CDs includes a mix of classic children's stories and picture dictionaries to broaden young minds and encourage language development.
Babies will also be strutting in style with fun new additions to Il Cocco di Mamma's Fancy Feet footwear section.
The company offers free gift wrap in its signature paper with every purchase. To see Il Cocco di Mamma's newest line of baby gifts, please visit http://www.ilcoccodimamma.com.
About Il Cocco di Mamma -- Signature Baby Gifts
After her nephew was born, Donna Bottari found she had a difficult time finding high quality children's clothing for boys -- particularly baby tees and onesies with an international flavor. In 2006, she launched Il Cocco di Mamma so other shoppers could easily find unique baby gifts that promote the world's languages, cultures and people. The online boutique is filled with original gifts for the children, bilingual or not, who deserve something as special as they are, and it offers (as they say in Italian) "tante belle cose," or "all the best and most beautiful things to you." Bottari has stocked her site with personally designed high-end baby tees, each expressing a foreign phrase. Il Cocco di Mamma plans to expand its children's clothing line by adding toddler tees in the near future. For more information, please visit http://www.ilcoccodimamma.com.
Media Contact:
Donna Bottari
617-642-1778
# # #