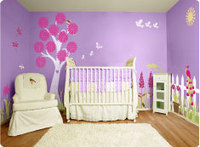 I encourage anyone with a great idea and the passion to follow through to go for it. Learn all you can, surround yourself with people who know more, and success can be achieved even in the hardest of times
Chattanooga, TN (PRWEB) October 29, 2008
In August of 2008, product designer Michael Goins of Chattanooga was laid off. Within two months he and his wife, stay-at-home mom Stephanie Goins, had designed, sourced manufacturing for, and launched their own product line for decorating a baby nursery or kid's room.
"It was the perfect idea at the perfect time," comments Michael. Just before being laid off, he and Stephanie had decorated their three-year-old boy's room and their newborn son's nursery. They spent days painting murals of trees, stars and little creatures. They realized that other parents would love to have this level of nursery decor or kid's room decor, but most don't know where to begin and/or cannot spare the time. That's how the Walls That Wow Kid Room Stencil Kit came to life.
The husband and wife duo developed unique kits for painting murals in child and baby rooms. Each kit contains more than 30 large stencils designed to work as a theme. Currently, flower, farm and transportation themes are available. Examples of the stencils are: a giant flowering tree, a perching peacock, a large barn, planes and a rocket ship. While the designs are both original and fun, the use of self-adhesive backing makes them truly unique. This innovation eliminates the need for tape or spray adhesives, a terrific bonus for pregnant moms. The company website demonstrates many of the decorating possibilities parents can accomplish in a single weekend. Professional painters may also find this product useful if they want to offer additional services, such as painting kids' rooms.
Some have told the Goins' this is a precarious time to start a business. But from the perspective of a laid off designer, it seems more precarious to depend on someone else for your income. "I encourage anyone with a great idea and the passion to follow through to go for it. Learn all you can, surround yourself with people who know more, and success can be achieved even in the hardest of times," says Michael.
As the business grows, they have plans to expand the number of themes offered. Stephanie remarks, "The possibilities are endless. It is all very exciting!"
For more information, contact Michael Goins at 1-888-945-4443, or visit http://www.MyWonderfulWalls.com.
###