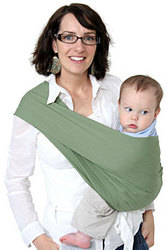 Outsourcing our baby sling manufacturing to Sew Tuff has given me the freedom to be a Mom again. I like that peace of mind
Orem, UT (PRWEB) June 10, 2008
HugaMonkey baby slings has partnered with local business Sew Tuff. HugaMonkey selected Sew Tuff to expand they capacity. After working with interns and part-time help, the business needed a better solution.
"We needed a lot of baby slings in not a lot of time, so we began looking for a manufacturer. Sew Tuff is a sewing factory that started out making various baby products. Their first products were changing table pads and cloth diapers, but they have also expanded. Now they make everything from washcloths to tutus to baby slings," said Dylan Higginbotham, co-owner of HugaMonkey.
Sew Tuff receives HugaMonkey's baby sling fabrics directly, and then cuts and sews the slings. Eventually they may also fold and package the baby slings.
The relationship came about by networking. HugaMonkey is a family-owned business and Sew Tuff is owned by a relative of a neighbor. Dylan Higginbotham explained, "It's funny how you find people when you need them. With a little mention here and there, about how we needed to streamline our baby sling manufacturing. The answer seemed to come out of the woodwork - the answer to our dilemma. It was meant to be!"
"Sew Tuff makes our slings faster, less expensively, and more uniformly. Our customers get the high quality they expect, get their product shipped quickly, and received a very uniform product," said Higginbotham.
The Higginbothams toured the factory, "Jennifer showed us everything and answered all our questions. I stood there talking to the ladies who've been working there for 20 years and still love it. There's music and laughing. It's got a good vibe and we felt right at home from day one. We knew they were a perfect fit, just like a HugaMonkey baby sling!"
Dylan Higginbotham's wife Leah likes that Sew Tuff is a locally owned, family business - just like HugaMonkey. Another benefit is that Sew Tuff doesn't have a minimum order, which makes it easy for a start-up like HugaMonkey to get started. The result is that Higginbotham can do more of what he loves - staying home and roughing up her kids. "Outsourcing our baby sling manufacturing to Sew Tuff has given me the freedom to be a Mom again. I like that peace of mind," she said.
About HugaMonkey LLC:
HugaMonkey makes and sells baby slings that are lightweight, comfortable, and stylish. After making baby slings as gifts for friends, family and even the perfect stranger, Leah Higginbotham started HugaMonkey in May 2007. Just like your baby, HugaMonkey continues to grow.
To view the complete line of HugaMonkey baby slings, including organic baby slings, visit http://www.HugaMonkey.com.
# # #