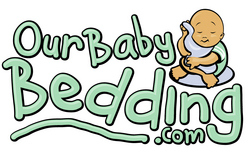 Windsor, ON (PRWEB) December 16, 2008
OurBabyBedding.com, a premium online retailer of baby bedding and nursery décor, unveils Cotton Monkey Organic Baby Bedding featuring organic baby products made from cotton grown without chemicals or pesticides. This luxurious lineup is now available for immediate delivery at OurBabyBedding.com.
The products in this baby bedding line are available as individual pieces including crib bumpers, crib skirts, fitted crib sheets, and throw blankets or as a complete four piece set as well. Cotton Monkey bedding is made from 100% certified organic cotton fabric and batting that is not treated with any formaldehyde or chlorine bleach.
Cotton Monkey specializes in pure, modern and fun products for babies & toddlers. They have merged modern with organic to create well-designed and environmentally sensitive items for children. These products nurture the child and the parent and are carefully selected for quality, purity, design and sustainability. Whether you are looking for baby girl bedding, baby boy bedding or neutral crib bedding, Cotton Monkey organic baby bedding has a wonderful selection for your baby's nursery.
With crib sets ranging from the simple White on White collection to the sophisticated Casablanca collection, there are a total of eight unique baby bedding sets available to choose from. Each set was inspired by different aspects of nature and designed by textile designer Harmony Susalla at Cotton Monkey.
OurBabyBedding.com is an internet retailer of baby bedding offering a wonderful selection of nursery bedding, accessories, and diaper bags. With beautiful vivid colors and fabrics, OurBabyBedding.com products will enrich your baby's nursery. Website visitors can navigate to gender specific and brand specific product pages as well as product category pages such as blankets and sheets, crib sets, diaper bags, etc. OurBabyBedding.com is proud to offer unique product groupings such as brown and pink baby bedding, blue and brown baby bedding, baby bedding for twins and fleece fitted crib sheets and now organic baby bedding as well.
For further information, contact Joe Aiello at 866-478-5945 or visit http://www.OurBabyBedding.com.
###