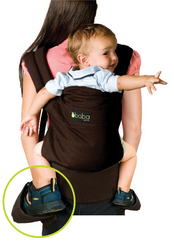 We're excited to offer $500 in cash to the person who submits the best new fabric design with a nature theme for our popular soft structured baby carrier – Boba
Boulder, CO (Vocus) February 2, 2010 –-
NAP, Inc. – http://www.bobababycarrier.com - together with Spoonflower, is holding a new contest from February 18-25, 2010, that is open to the general public. Everyone is eligible and encouraged to submit one new fabric design per person for NAP, Inc.'s backpack-style Boba baby carrier. The theme of the new design submitted should be "nature". One winner will receive $500 in cash and the opportunity to work with NAP, Inc. to name the winning design. Each contestant can submit online one new fabric design by following instructions at http://blog.spoonflower.com/bobababycarrier.html. The winner will be selected based on the highest number of votes received from online voters. Submissions begin on Thursday, February 18 and end Thursday, February 25 at midnight EST. Voting begins online on Monday, March 1 through Sunday, March 7. The winner will be announced on March 9.
"We're excited to offer $500 in cash to the person who submits the best new fabric design with a nature theme for our popular soft structured baby carrier – Boba," said Robert Antunovic, CEO of NAP, Inc. "We are encouraging everyone to be creative and think of an original fabric design they believe parents and kids will love - and then submit their design as an image online by uploading their hand drawing, sketch or computer generated drawing."
Made entirely in the USA by Boulder mountaineering professionals, Boba is the first soft structured baby carrier designed for babies and toddlers to offer foot straps for a child's full leg support. It is ideal for children weighing from 15 to 45 lbs. The backpack-style Boba ensures that the toddler's knees are supported and the legs are placed at a natural 90-degree angle. When the baby is seated in a flexed abducted position (legs apart, knees bent) and oriented towards the carrying adult, the child's hips and pelvis align properly to support the spine - allowing for proper leg circulation and increased comfort for the baby. In addition, the baby backpack carrier is constructed using more material allowing for higher back support for the toddler. Boba is an eco-friendly child carrier – made with GOTS and OE100 certified organic cotton and lined with 100% organic Texas cotton.
To enter the contest or for more information visit http://blog.spoonflower.com/bobababycarrier.html
About NAP, Inc.
Founded in 2006, Colorado-based NAP, Inc. is an environmentally friendly company that designs, develops, and manufactures premium infant carriers for babywearing parents – Sleepy Wrap, Organic Sleepy Wrap, and their newest backpack-style baby carrier - Boba.
About Spoonflower
Founded in 2008, Spoonflower – http://www.spoonflower.com - is a web site that lets individuals create and sell their own designs on high-quality fabric. Spoonflower was founded by Gart Davis, former president of Lulu.com, and Stephen Fraser, a former Internet marketing consultant whose wife persuaded him that being able to print your own fabric was a cool idea.
Media Contact:
Ria Romano, Partner
RPR Public Relations, Inc.
Tel. 786-290-6413
###