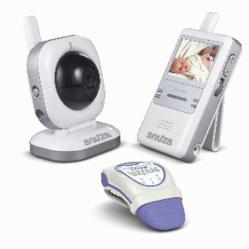 The new Snuza Trio is the first and only completely mobile cordless baby monitoring system available with both audio and video functions.
West Hollywood, CA (PRWEB) September 18, 2012
One of the biggest concerns for new parents from the time of birth until their baby is one year old is Sudden Infant Death Syndrome or SIDS - defined as the sudden death of an infant less than one year of age which remains unexplained. October is SIDS Awareness Month and to bring recognition to this crucially important topic for new parents, Snuza USA is holding a Pinterest giveaway for their new mobile baby monitor – the Snuza Trio (MSRP $299.99) – beginning September 18, 2012 through October 23, 2012. To enter the Snuza Trio Pinterest Contest Giveaway, the entrant must "follow" Snuza USA on Pinterest at http://pinterest.com/snuzausa/ and then re-Pin the image of the new Snuza Trio baby monitor on Snuza's "BABY GEAR" board (located on the company's Pinterest account) onto a board of their own. The more times an entrant re-Pins the image onto their own Pinterest boards – the more chances they have to win.
One winner will be chosen at random on October 24, 2012. The winner of the new Snuza Trio will be notified by Pinterest comment on October 24, 2012 and must respond within 48 hours from notification or an alternate potential winner will be randomly selected. Winner of the new Snuza Trio also will be announced on Snuza USA's Facebook page at http://www.facebook.com/SnuzaUSA on October 26, 2012.
No other baby monitoring system is as complete – or as mobile – as the new Snuza Trio. The Snuza Trio even includes three lullaby tunes which can be used to help soothe a baby to sleep as it is monitoring. The cordless Snuza Hero monitors the baby's movement by clipping, not to the crib mattress, but gently to the baby's diaper near the stomach. This ultra-sensitive motion detector monitors and recognizes the baby's movement constantly. If the Snuza Hero does not sense movement within a 15 second time period, it tries to stimulate the baby by activating a pulsed vibration, which imitates a technique used by Hospital Neonatal Care Units worldwide called "Cutaneous Stimulation". If movement is not sensed within a further five seconds of the vibration, an audible alarm is triggered to alert the parents to check baby. Digital wireless technology provides interference-free communication and 100% privacy and the Snuza camera can be used in a longer distance than traditional analogue video baby monitors.
The new Snuza Trio is $299.99 and available now in stores nationwide and online. Visit http://www.snuza.info for more information.
Media Contact
Ria Romano, Partner
RPR Public Relations, Inc.
Tel. 786-290-6413