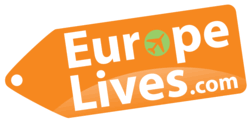 We think the generation that 'did its own thing' will want to do that with us.
Vernon, BC (PRWEB) January 24, 2012
"You can go your own way," Fleetwood Mac told North America's Baby Boomers in 1976. Today that's still a lyric, and an audience, that's music to the ears of an innovative new travel company called Europe Lives.
Europe Lives, a creative tour operator based in Vernon BC, recognized that travel is nothing new to an independent generation that came of age roaming Europe as college students toting backpacks and Eurail passes. Many had since been back on business or vacation. Now, with more time on their hands, they have a desire to once more see the Continent up-close again, but not on a stuffy tour bus. Instead, Boomers yearn to return to the free-and-easy wander of their youth – albeit with more comfortable accommodations than a youth hostel and a sleeping bag. Europe Lives has embraced these twin needs and crafted a new series of on-the-ground tours designed for independent Boomers, or anyone else, who want to connect with real people and authentic places in a meaningful way.
"Our target customers already know how to get to the Continent," said Europe Lives co-founder Dirk Terpstra. "What our company does is provide an organizational framework so they can focus on what they really want – experiencing Europe face-to-face in a way that's extremely personal. You can think of us as the Zip Car of European vacations."
The reference to the do-it-yourself car start-up is an apt one. Just as Zip Car customers find their car waiting for them, Europe Lives takes care of all the trip's details. The traveler shows up, hops in her car or on her bike and is ready to hit the road. She can even do it on foot. Europe Lives offers three different modes of experiencing the Continent with walking, biking or driving tours.
"Our tours are anything but boring," Terpstra says. "We get you off a bus and on the ground to do your own thing. Travelers can be confident that Europe Lives has taken care of all the details: the reservations, bookings and ticketing.
"You're free to engage, to roam and experience the Continent without the hassle," he adds. "We think the generation that 'did its own thing' will want to do that with us."
Each one of Europe Lives self-guided tours are deliberately crafted to maximize encounters with local culture. The company encourages its customers to shop and eat in local markets, advises them on undiscovered restaurants and routes them along roadways that maximize the opportunity to engage with locals and discover a unique region. Each tour is tailored to allow travelers to stay in small, locally owned inns where they can experience the authentic Europe.
Europe Lives' Spanish tour is a good example of how the company thinks. They are currently offering a eight-day, self-guided trip to the Spanish province of Asturias on the country's northern coast to explore the Picos de Europa, a range of limestone mountains noted for its wild rivers and deep gorges. Travelers will have opportunities to sample the local food including delicious Cabrales cheese and apple cider or tour historic towns noted for their Romanesque architecture.
Other tours include a wonderful walking trip along the Chianti vineyards in Tuscany, a combined driving-walking trip to the fascinating Pilgrims Trail to Santiago de Compostela. and a bicycle trip from Amsterdam into the Dutch countryside to meet with the locals.
"Europe Lives should really be called Europe alive," enthused Bryan Schenker, who biked with a small group along the Dutch canals. "We've all been overseas before, but what Dirk's team did was make this adventure easy. Our bikes were waiting for us when we got there. The itinerary was loose but organized. The cycling was never strenuous, with time to explore and indulge in leisurely lunches with super authentic amenities on the Dutch barge that stayed with us the whole week. We got a chance to talk with Dutch people and to engage them. I'm looking forward to doing it again, maybe even next year."
Reservations are now being accepted for Europe Lives' next series of trips beginning early spring 2012. For more information visit them online at europelives.com, on Facebook, by email or call 1 866 800 6600.
Founded in 2010, Europe Lives' mission is to offer real people real travel experiences in 10 different European countries. These are self-guided or guided, walking, cycling or self-drive trips. The two Dutch founders and their team care very much about doing business in a responsible and sustainable way. Europe Lives Travel Ltd. is a privately held company headquartered in Vernon, BC, Canada, with a European office in the Netherlands.
###