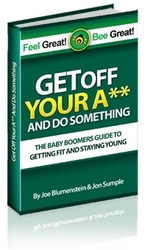 I kept hearing I had a potential hot-seller on my hands and was told to price the book anywhere from $9.99 to $19.99
Pembroke Pines, FL (PRWEB) March 9, 2009
In a world where uncertainty, unemployment and economic meltdowns dominate headlines, there's a ray of bright light emanating from a South Florida entrepreneur's backyard. After completing his first book -- Get Off You're A## and Do Something - The Baby Boomers Guide to Getting Fit and Staying Young - Joe Blumenstein went against the recommendation of marketing experts and decided to give his book away.
"I kept hearing I had a potential hot-seller on my hands and was told to price the book anywhere from $9.99 to $19.99," says Blumenstein about his inspirational e-book. "With all the doom and gloom in the world today, I wanted to do something positive. I know in my heart that giving the book away is the right thing to do."
The 86-page book offers a commonsense approach to getting fit and staying healthy with an emphasis on three basic components: energy, exercise and rest. It shares how Blumenstein reclaimed his vitality after a life-threatening boating accident and includes stories of how other people went from uninspired, sedentary and overweight to energized, active and fit without following fad diets, or purchasing gym memberships or expensive exercise equipment.
"The mantra of the book is 'do the do'," says Blumenstein. "Too many people are concerned with the end result rather than the effort it takes to get there. That's why diet books fly off the
shelves - they're selling hope. Well, hope doesn't help you lose weight and get fit. Hard work does. There's no way around it, you need to commit to lifelong journey of 'doing the do'."
The book is currently available to download for free at joes bookstore blog. Joe is available for interviews via phone and radio. Joe is offering his time without charge for a limited time, so get him booked today.
JOEBEES.com is a progressive, natural health e-tailer focused on providing health solutions in a responsible manner. The flagship product, JOEBEES, is offered online in one to six month supply increments. Joe Blumenstein (aka Joe B.) personally oversees the operation and offers an unconditional 100% money back guarantee. JOEBEES is based in Pembroke Pines , FL , USA . Visit JoeBees.com for additional information or contact Joe directly at joe (at) joebees (dot) com
# # #