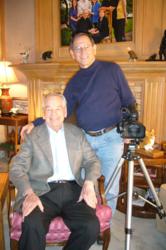 "What would it be worth to have your great, great grandmother tell you her life story, in her own words, in color, with pictures and music?....Priceless!!"
Dallas, TX (PRWEB) August 14, 2012
78 million Baby Boomers, 25% of the US population, are at or nearing retirement age. Many have been looking for a creative way to speak to future generations. The Visual Biography Co. now offers an amazing service that helps Boomers preserve, restore and record their life stories. With state of the art visual and audio media they are able to do more than just leave footprints in the sand.
Greg Vaughn, founder of Visual Biography, says "The boomer generation wants to do more than say "hello" to future generations. We have found a way that enables them to fully communicate their family history, value system and love to those not yet born."
Vaughn frequently hears "Oh, how I wish we would have recorded Grandpa's stories while he was still here" or "I always intended to pull everything together about our family history but never found the time. Now it's too late, Mom is gone". Over and over he listens sympathetically to those that had very good intentions to write a book, catalog pictures and videos, or record the precious stories of someone they love. Most regret that the busyness of life and the lack of skilled direction prevented them from capturing that legacy.
The bricks and mortar that have built our lives are the core values, principles, faith and treasured stories of the past. Unfortunately for most of us, and our parents, that core will vanish when we hit the grave.
Few Boomers have taken the steps to record their history. Fewer still have the expertise to do it digitally, in a person's own words, for future generations. The Visual Biography Co. now makes it easy for them preserve the past and present for the future. A Father's Day 2012 Dallas Morning News article features Greg Vaughn and what fuels his passion to capture living history.
Recently, Vaughn was called by a distraught daughter of a Vietnam veteran. Her dad was going in for a second open heart surgery and she feared he wouldn't make it. She was a scrap booker and had always intended to write down and record the events of his life, but never did. She asked, "What do I do? I can't bring him to you in Dallas and I dare not wait for you to come here". He gave her three valuable tips and a 5 minute crash course in videography.
Tip 1: Buy or borrow a quality digital camera (Don't use your Smartphone!)
Tip 2: Get a microphone that will connect directly to the camera. Quality video is worthless without quality sound.
Tip 3: Use natural lighting, be near a window. Layman will not have a pro lighting kit, so take advantage of the sun.
Most of all, he said, "Just do it. You can always edit later, get it done now." The tough vet made it through the surgery, the daughter recorded her beloved dad, and a brick for building the future was preserved.
Another Visual Biography client, Lyn Sidener Baugh, whose dad was the youngest pilot in WWII, said "I've been looking for years for someone that could do my dad's story justice. He doesn't think he's a hero, but he was to all those that served with him, and even more so to us, his family."
Vaughn has dedicated himself to helping people capture and preserve the core treasures of their lives for future generations. Out of his small office in Richardson, TX Vaughn has filmed such notables as Zig Ziglar, Tony Roosevelt (grandson of FDR), the Thompson Family (7-Eleven) and Phil Romano (Macaroni Grill). His first question is always "What would it be worth to have your great, great grandmother tell you her life story, in her own words, in living color, with pictures and music?" The answer is always "Priceless!!" He tells his clients, "You may not think your story is worth listening to, but your children, grandchildren, and great, great grandchildren will view it as a priceless treasure and it may very well transform their life".
Vaughn's message to aging Baby Boomers, "Just do it. It's too important to wait. Get whatever help you need to make it happen." Procrastination is no longer an option.
About The Visual Biography Company: Greg Vaughn, president of Grace Products Corp., founded the Visual Biography Co. in 1995. After the death of his mom it became his passion to produce high quality "living" histories of people in the A&E style. His early work began in the Dallas and N. Texas area but recently has expanded to offer the service nationwide with particular attention to WWII veterans and the Baby Boomer generation. To date, over 80 have been completed.