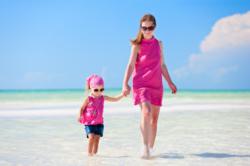 Everyone wants a vacation that delivers the most for each hard-earned dollar and yet still provides lasting memories for their children.
Los Angeles, CA (PRWEB) July 05, 2011
The complete baby information site for parenting tips and parenting styles, Baby Lifetime, has released their Top Ten US Summer Family Vacation Picks for 2011. With many families watching their vacation budget this year, Baby Lifetime knows that choosing the right destination has become more important than ever. Majority of families want a vacation that delivers the most for each hard-earned dollar and yet still provides lasting memories for their children. While some families are planning on taking a traditional summer vacation, others are forgoing a traditional holiday in favor of what is now being called a "staycation" which is a bit closer to home. Still, there are many options available all over the country that might be close and yet provide a feeling of getting away and experiencing something new and exciting. After researching various destinations and gathering opinions from the parents who visit the educational site on a regular basis, Baby Lifetime found these spots offer the most in terms of bargains, entertainment and quality for family travel.
1. Orlando, Florida.
The top location for families and fun, Orlando offers a wide variety of options for families. The big park attractions are always on the top of every child's list and great package deals can still be found through major hotel chains and airlines. Take a ride to a nearby beach for a day of sand and surf or choose an outdoor adventure like swimming with the dolphins for a day of family fun. Daytona Beach is not too far north and a visit to the race track might satisfy the car lovers in a brood.
2. Disney Cruise, Caribbean.
The Disney cruise line was made for kids and families and the activities they offer prove it. Deck parties, character meet and greets, Broadway style shows, top of the line pools, entertainment and kid's clubs make the Disney cruises a top option for children and parents alike. Mom and Dad can enjoy the spa, fine dining, and excursions to top spots such as the Cayman Islands and St. Thomas.
3. Yellowstone National Park.
With Wyoming's moderate climate throughout the summer, Yellowstone is a historical and natural wonder all families should visit. Park lodging provides affordable options and park activities keep kids busy throughout the trip. This is the ultimate outdoor green living for enhancing your already perfect positive parenting.
4. San Diego, California.
The San Diego family vacation filled with LegoLand, SeaWorld, the San Diego Zoo and, of course, the beach, will keep everyone smiling during the visit. Drop by the Reuben H. Fleet Science Center for over a hundred hands-on exhibits that will entertain and educate at the same time.
5. Maui, Hawaii.
Leis and luaus always make for wonderful vacation memories. Perhaps this is the summer to visit the glorious beaches, volcanoes, and aquariums of beautiful Hawaii. Fun for the entire "ohana!"
6. Anaheim, California.
Of course, Disneyland, Adventure City, Six Flags, and Universal Studios will provide days of entertainment and memories to last forever. Don't forget a visit to Laguna Beach for sandcastles and wave time, too!
7. Grand Canyon, Arizona.
The breathtaking views of the Grand Canyon are just one of the reasons to visit. Take a helicopter tour, train ride or explore the bottom of the canyon. If the kids need to unplug from the TV, games and computer, this might be the perfect spot.
8. Carlsbad, California.
The perfect spot between the stars of Los Angeles and the sights of San Diego, Carlsbad is a good option for finding summer deals even if you have a little one that just started walking. The deluxe spas and fine dining give Mom and Dad a chance to relax while other toddler activites keep the kids busy.
9. Washington, D.C.
A great destination for families on a budget, DC provides many free sightseeing opportunities such as the Lincoln Memorial and the Jefferson Monument. Stay at a hotel outside of the city but near the well-run Metro to save even more. Combine learning and fun in a family visit to DC.
10. San Antonio, Texas.
Every family should make a visit to the Alamo where Davy Crockett's story is alive and well. Right across the street is Ripley's Believe It Or Not and fun restaurants round out day number 1. A trip to Six Flags amusement park, Sea World, shopping on the River Walk, a cruise on one of the Rio Antonio boats, and shrieks at the new BugMania exhibit at the San Antonio Zoo will all make for a fantastic family trip.
About Baby Lifetime
The Baby Lifetime, is a California non-profit corporation, whose mission is to help those in need, including other non-profits raise the funds required to operate. Our goal is to financially help organizations that actively work to improve the quality of life in our communities and world. Organization is designed to provide philanthropy directed services through family based web community. Our board is responsible for planning, organizing and hosting different events, and also running the day to day affairs of the business.
###