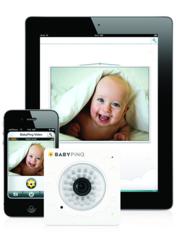 London, UK (PRWEB) November 28, 2012
BabyPing, the revolutionary video baby monitor, has released a new feature, BabyPing+ which offers on-the-go parents a simple way to access their baby monitor from outside their home network, using Wi-Fi, 3G or 4G.
The BabyPing Wi-Fi baby monitor was launched earlier this year and has already won the prestigious 2012 Kind Und Jugend Innovation Award for its ingenius use of the latest in modern, safe technology to allow parents to hear, view and monitor their child through technology they already love – their iPhone, iPad or iPod Touch.
BabyPing+ brings updated features plus a separate additional app to the original BabyPing app. When combined, the two apps create the ultimate modern baby monitor – a device which allows parents to monitor their child while they're at home and a simple way to view their BabyPing monitor when they're away, all through their existing iOS devices.
Whether at work, travelling on a business trip or out for the evening and leaving the little one with a babysitter, BabyPing+ gives parents the freedom to check on their baby over the internet, wherever they are, so that they never have to miss a moment.
The new feature will also benefit family members further away as parents can invite family and friends to share the monitor from their own iOS device. By inviting loved ones to download and login securely using BabyPing+ , Grandparents, Godparents and loved ones will be able to check in and share those precious moments.
Built with safety and convenience in mind, BabyPing+ is only enabled when it has been setup by the parents through the original BabyPing app. The BabyPing app requires access to both the local Wi-Fi network and the BabyPing monitor, offering parents peace of mind and total control of who is able to access the monitor.
The BabyPing app also shows parents once an invite to view the monitor has been accepted, when the last time someone accessed the monitor was and give the option to remove users access with ease. Parents can also easily disable all BabyPing+ access with a swipe of the finger in the app – ensuring they are always in the driving seat.
The BabyPing Monitor is also loaded with its own key features - Smart Filter™, Constant-Connect™, infrared night vision and double layer security offering a truly reassuring alternative to old-style monitors. All of these features continue to work unabated while using the BabyPing+ feature.
The BabyPing Video Monitor retails for £165/$249/€220. It can be purchased from BabyPing.com and select etail and retail partners.
About BabyPing
BabyPing is a young, British based company that believes in combining the latest innovation with safety and security. The BabyPing monitor, developed using feedback from parents to ensure the product answers their needs, proves that baby monitors have finally grown up, putting parents firmly in control by using the latest technology to create the safest and most convenient way to monitor their baby.