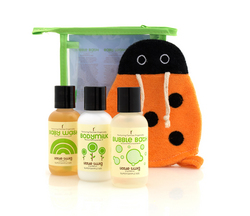 New York, NY (Vocus) July 12, 2010
The new e-commerce site 3floz.com has changed the way people all over the world are traveling since their launch in February 2010. Just in time for summer travel, 3floz.com will be adding baby products to their offering of name brand, high end beauty, grooming and personal care items that are all 3 fl oz or less which will make hassle-free airline travel even more attainable for those travelling with kids this summer, and beyond. Brands will include Little Twig, MD Moms (with exclusive items) and Lather (who in addition to multi-product kits will also sell their individual items exclusively to 3floz.com). Weleda Baby products will be available by August 1. The price range for baby-specific items is $6-$26. Products include bath items, oils, creams, sunscreens, towelettes and more.
With most airlines charging to check even just one bag, 3floz.com is for savvy travelers who demand convenience, do not want to deal with the hassle and fees associated with checking a bag, and aren't willing to sacrifice their routine while away. Co-founders Kate Duff and Alexi Mintz wondered for years why they couldn't find all of their favorite beauty products in travel-friendly sizes to take along on their frequent travels -- so they took their combined 11 years in the beauty industry and launched 3floz.com in February 2010. Convenient services include shipping worldwide, even direct to hotels, and same-day delivery within Manhattan via courier if you order by 2pm. Customers can even receive an upgrade to overnight shipping for the price of ground by including a flight itinerary showing travel within three days.
New brands are consistently being added, and plans for the future include the addition of cosmetics, travel-friendly beauty and grooming tools, and accessories.
Please contact Style House PR for a full press kit. Visit http://www.3floz.com, and follow @3floz on Twitter for travel and beauty tips as well as new product announcements.
###