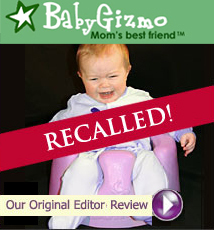 an incredible new baby seat
Chicago, IL (PRWEB) October 30, 2007
Bumbo Baby Seat recall no surprise to editors at BabyGizmo.com who have been warning of seat's dangers for 11 Months.
The privately-held company and the Web's most comprehensive baby product resource is a site a parent can trust.
When the Bumbo, a strapless, odd-smelling vinyl seat that folded tiny babies in half, forcing them to sit upright months before Mother Nature intended, debuted, the accolades rolled in.

The Chicago Sun Times named it a Top 10 Coolest Baby Products
The National Parenting Center and iParenting Media Awards gave it their highest award and said it was "an incredible new baby seat"
It was listed as a Top 10 baby product in "The Gallagher Guide to the Baby Years"
Heather Corley, the "baby expert" at About.com gave the Bumbo 5 stars and said it "does a great job of holding baby securely."
Mommies Magazine said, "There are no cons for the Bumbo Baby Seat. It is lightweight, easy to use and safe."
But the Senior Editors at BabyGizmo weren't buying the hype. In fact, they wondered if anyone had actually touched the product they were raving about. When BabyGizmo bought several off the shelf and tested them on a range of babies, they found the smell hardly healthy, the lack of straps alarming, and the entire product ripe for accidental parental misuse. They interviewed pediatricians to refute the Bumbo company's own medical and developmental claims. And they posted their findings in a detailed online and video review 11 months ago.
But the Bumbo isn't the only unsafe baby product to draw BabyGizmo's ire. They recently published the "9 Most Popular But Unsafe Baby Products" that haven't been recalled yet, but if BabyGizmo's track record is to be believed, will.
The BabyGizmo.com site - now a consortium of expert editors, early childhood educators, pediatricians and moms around the country - prides itself on calling out unsafe products, bad government policies, and yes, they will name names (Graco's SnugGlider travel swing, beware). But most importantly, BabyGizmo.com believes in teaching their visitors how to become baby gear experts in their own right.
Sisters Heather Maclean and Hollie Schultz founded BabyGizmo.com in 2005 to be the "CNET of baby gear" because they were sick of being tricked into bad baby purchases. They discovered that online retailers routinely delete negative reviews because they want to sell more stuff. Magazines must toe the line with their all-power product advertisers. And even mom blogs receive compensation from the product's makers for their "real world" reviews.
Maclean and Schultz set out to make BabyGizmo.com beholden to no-one… except the truth. They don't actually sell any product, so they have no interest in helping manufacturers break their sales records. They have a strict no manufacturer advertising policy. And they don't take any money from anyone for their opinions. In fact, their site is free to anyone, no membership required. But this is no small blog. The database-driven site features over 25,000 baby products in well-organized, easy-to-navigate categories. There are buying guides, specific model product information, video and audio reviews, and even price comparison.
And thousands of parents across the country are logging on for BabyGizmo's "straight poop." The site has become so popular that it's spawned its first book, "The Baby Gizmo Buying Guide" due January 2008 (Thomas Nelson), currently available for pre-sale on Amazon.
The book and website work in perfect harmony - the book avoids naming specific models since products change faster than the actual printing process, but instead teaches parents how to buy. Full of definitions, product history, expert opinions, how most moms use or don't use it, when to buy it, if you really need it, and how to save money purchasing it, "The Baby Gizmo Buying Guide" is the first and only baby product bible. Yet anyone can log on to BabyGizmo.com for free to read real-time reviews from both experts and moms from around the country for model specific information, including folding dimensions, weight and price.
But unlike other books and websites, BabyGizmo celebrates the fun of shopping with hip and hilarious confessions and pop culture references from "Saved by The Bell" to Shakespeare. In fact, in one chapter, the authors offer to fight actress Tori Spelling. Not your grandma's book, for sure!
BabyGizmo shares collective and conspiratorial advice on hundreds of fun, practical, insider tips like how to:

Use Diet Coke to test crib safety
Get Grandma to spring for the crib
Spot which highchair feature can lead to more time to read US Weekly…
Lick the merchandise
Get someone else to potty train your kid
Spot a crib mattress scam
Find the toys that make moms pretty
Tired to pulling yet another recalled toy out of your baby's crib? Shocked that no-one warned you your toddler could knock over his baby sister's bassinet? Join the revolution of smart moms at BabyGizmo.com.
About The Baby Gizmo Company
The Baby Gizmo Company was founded in 2005 by sisters and seasoned entrepreneurs Heather Maclean and Hollie Schultz. A product testing and research coalition of moms, pediatricians and child development experts, The Baby Gizmo Company publishes BabyGizmo.com, the Web's only baby product resource site featuring third party, in-depth expert reviews and a price comparison engine with over 25,000 products. The company is based in Chicago, Illinois.
About The Founders
Heather Maclean, mother of three, is the founder of Little Laureate, an award-winning educational children's media company, and co-founder of BabyGizmo.com. Named one of the "16 Best Entrepreneurs in America" by Sir Richard Branson, she accompanied the adventurous business legend on a 50,000 mile trip around the world, alternately helping improve the lives of others and fearing for her own. Heather began her career at Disney, where she had the distinction of being the first person to answer Mickey Mouse's email. When not castle hunting in her husband's native Scotland, she happily resides in Chicago. Hometown: Chicago, Illinois.
Hollie Schultz knows firsthand the ups and downs of trying to find the perfect baby gear purchase, as she just had her second baby. Hollie is co-founder of BabyGizmo.com and a certified CPS (Child Passenger Safety) technician. She lives in Chicago. Hometown: Chicago, Illinois.
###