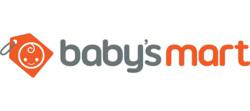 Prams, Pushchairs & Baby Equipment at great prices!
Keynsham, Bristol (PRWEB) May 13, 2013
Baby's Mart, one of the leading online suppliers of baby products in UK, recently launched a new affordable line of baby and child car seats for babies and children who are 12 months to 12 years old, comprising 5 different kinds of car seats as well as wide range of baby car seat accessories.
High quality baby products are always in high demand as all the parents want their babies to enjoy the best of the products. Some of the common baby products that parents frequently buy include nursery beds, toys, gifts, car seats, prams, nursery furniture and other baby-care products. Baby's Mart, one of the leading online suppliers of baby and children products, recently announced a new affordable line of baby and child car seats for children in the age group of 1 - 12 years.
Click here to take a look at the new baby car seat products.
The products are neatly categorized as per car seat design, age of the child and kind of accessories. These products can be ordered from the official online store of Baby's Mart. Going by type, there are seven products included in the line viz.lay-flat car seats, forward facing car seat, iso-fix car seats, high-back booster seat, baby car seats, rear facing car seat, and combination car seats.
Talking about the high quality and big brand car seats offered by the company, the founder of BabysMart said - "There are many car seats available in the market, which makes choosing the right car seat a difficult decision. Here at Babys-Mart, we only stock products from the best baby car seat manufacturers and child car seat brands, which include Britax car seats, Recaro car seats, Maxi-Cosi car seats, BeSafe car seats, and Kiddy car seats."
The company also has a policy of dispatching the products on the same day if a customer places an order before 12 pm. With fast delivery and high quality products, Baby's Mart has successfully catered to millions of customers across U.K.
Some of the other popular products that customers can purchase from Baby's Mart are prams and travel systems, buggy and pram accessories, pushchairs and biggies, baby equipments, a wide range of nursery furniture items, and beds.
About the Company
Baby's Mart has been retailing baby-care and children products online since 2001 and with a wide range of products and big brand collaborations the company has successfully earned millions of satisfied customers in U.K.
To know more about Baby's Mart, and its latest offerings, visit http://www.babys-mart.co.uk