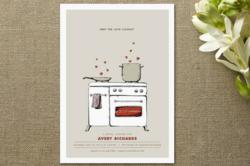 Each of these baby shower and bridal shower designs is a treasure and is worthy of the momentous occasions they are celebrating.
San Francisco, CA (PRWEB) June 02, 2011
Minted (http://www.minted.com), the online store powered by a global design community, is pleased to announce the launch of new baby shower invitations and bridal shower invitations. "Each of these baby shower and bridal shower designs is a treasure and is worthy of the momentous occasions they are celebrating," says Minted CEO and founder Mariam Naficy. "We know people will be thrilled to receive these beauties in the mail."
As an industry leader and trendsetter, Minted is confident that these shower invitations will inspire hosts and hostesses by providing color palette and theme cues for their upcoming events.
All 118 of the designs were sourced from the "February Showers Challenge" this spring. Minted invites designers around the world to submit designs to its ongoing design competitions. The Minted community then critiques the designs and votes to tell Minted what to sell.
The first prize, as voted by thousands of Minted fans, in the challenge was 'keep the love cookin', with a final score of 4.19, by Rhode Island-based designer Emily Potts. The design features a vintage stove and emphasizes all of the wonderful kitchen gifts a couple receives when they marry. Second place, with a score of 4.07, went to Iowa-based designer Moglea for her 'prairie tale' baby shower invitation featuring an adorable montage of woodland creatures against a slate background.
For every design challenge, Minted selects esteemed guest judges who are highly regarded in the design world or the press to inspire and promote the designers. In the February Showers Challenge, special guest judge Erin Loechner from the lifestyle blog Design for Mankind chose 'couple's recipe' by Ana Gonzalez for her award. Caitlin Flemming from the interior design blog Sacramento Street chose 'Umbrella of Advice' by Carrie O'Neal for her judge's award. Wedding blogger Meg Keene from A Practical Wedding chose 'Woodland Wreath' by Lisa Nelson for her judge's award.
About Minted's Design Challenges:
Minted's mission is to allow consumers to discover design genius from all over the world, providing an opportunity for designers to build their careers on merit alone. Minted holds monthly design challenges to source designs from a large global community of designers. The Minted community selects the best designs in a highly competitive and meritocratic process, yielding a top selection of the freshest, finest cards in the world. To that end, Minted's 2010 holiday card competition was the company's biggest challenge yet: almost half a million votes were cast for 1,370 designs, and the top contenders were chosen by Minted's community for sale.
About Minted:
Minted is a venture-backed design community and online store, crowd-sourcing graphic designs and content from a global design community and selling those as premium printed paper products initially focused on the $10 billion stationery, invitations, and cards market.
Minted has radically transformed what consumers now expect in holiday cards, wedding invitations, save the dates, birth announcements, business cards, and other personal stationery. The company's paper and printing is of the highest quality and it leads the market with the freshest designs, newest formats and most coveted details. Minted's fresh, unique designs have been featured on The Today Show, The Early Show, in Real Simple, Town & Country, InStyle Weddings, Food & Wine and other major national magazines.
###