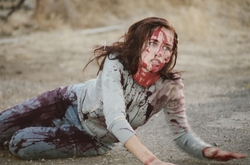 Babysitter is geared to be a franchise film and Lionsgate has had tremendous success with past endeavors in this area.
Hollywood, CA (PRWEB) August 7, 2007
Big Screen Entertainment Group CEO Kimberley Kates has announced that Lionsgate will be handling domestic distribution of its new horror/thriller, "Babysitter Wanted."
The film, which has been receiving stellar reviews stars Sarah Thompson (Seventh Heaven), Matt Dallas (Kyle XY) Bill Moseley (The Devil's Rejects, Chainsaw Massacre films), Bruce Thomas (Legally Blonde), Kristen Dalton (The Departed) and Monty Bane (Sleepwalkers); it was co-directed by BSEG's Michael Manasseri and Jonas Barnes.
"We are thrilled to be working with Lionsgate, one of the largest and most successful film studios in the industry. We always felt that they were the perfect home for 'Babysitter,'" Kates said.
BSEG President David Zappone added, "Babysitter is geared to be a franchise film and Lionsgate has had tremendous success with past endeavors in this area."
Lionsgate has distributed two of the most profitable horror franchises of recent years: Hostel 1 and 2 grossing $125 million worldwide; Saw 1, 2 and 3 grossing over $520 million worldwide.
About LGF:
Lionsgate (LGF) is the leading independent filmed entertainment studio, winning the 2006 Best Picture Academy Award for "Crash." They are also a premier producer and distributor of motion pictures, home entertainment, family entertainment, television programming and video-on-demand content. The Lionsgate brand is synonymous with original, daring, quality entertainment in markets around the globe.
About BSEG:
Big Screen Entertainment Group (BSEG) is a full service entertainment company designed to develop, produce, purchase, exhibit and distribute products in all media formats, including motion pictures, television, music, publishing, video games and cell phone content.
BSEG has completed three films, and has three films in post-production and seven films in development. Visit our website at http://www.bigscreenent.com for more information on these movies.
Links to the last three reviews of Babysitter Wanted:
http://www.horror-movies.ca/reviews.php?id=2609
http://www.bloody-disgusting.com/review/1791
http://slasherp.nexcess.net/htm/reviews/babysitterwanted.htm
Forward-Looking Statements:
A number of statements contained in this press release are forward-looking statements that are made pursuant to the safe harbor provisions of the Private Securities Litigation Act of 1995. These forward-looking statements involve a number of risks and uncertainties, including timely development, and market acceptance of products and technologies, competitive market conditions, successful integration of acquisitions and the ability to secure additional sources of financing. When used in this press release, words such as "could," "plan," "estimate," "expect," "intend," "may," "potential," "should," and similar expressions are forward looking statements.
Contact:
David Zappone, President - 323.956.4321
Kimberley Kates, CEO
http://www.babysitterwantedfilm.com
###