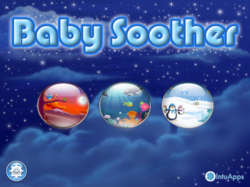 We saw the iPad as the perfect device to convert the 'crib soother' product into an app.
New York, NY (Vocus/PRWEB) February 09, 2011
'Crib Soothers' are must-have toys for newborns and infants. They entertain and pacify babies with a music, light, and motion show. Popular versions include the Fisher-Price Ocean Wonders Deep Blue Sea Soother or Rainforest Waterfall Soother, and the Baby Einstein Neptune Soother.
To evolve the crib soothing experience, New York based mobile technology and marketing company, IntuApps, today announced the release of the 'Baby Soother 3-in-1' application. "We saw the iPad as the perfect device to convert the 'crib soother' product into an app," said Lilly Gold, co-founder of IntuApps.
While the app and the physical product serve a similar purpose, the app offers more versatility than its counterpart. The app has three scenes, rather than just one. The app allows for the music selection to be customized and there are settings for the play duration. The app costs $1.99, versus approximately $40.00 for a traditional 'crib soother'. There is also a 'free' version of the app. The application is available on the iPad, iPhone, and iPod Touch.
Baby Soother 3-in-1 offers three adorably animated scenes:
Snow Scene: waddling penguins, flying birds, and falling snowflakes to entertain your baby.
Ocean Scene: friendly dolphins, colorful fish, octopus, starfish, gentle waves, and lots of bubbles to mesmerize your baby.
Night Scene: beautifully calming sunset with a charming moon and cute chirping birds to tweet babies to sleep.
Songs include:

Brahm's Lullaby
Did You Ever See a Lassie
Down by the Station
Fairy Princess
The Farmer in the Dell
Frere Jacques
Have You Seen the Muffin Man
Hush Little Baby
Nighty Night
Oh, Where Oh, Where Has My Little Dog Gone
Take Me Out to the Ball Game
Three Blind Mice
Three Sisters: Suite
Twinkle Twinkle Little Star
Unicorn's Adventure
Millions of people have installed applications developed by IntuApps. With the release of this latest app, many babies will soon be lulled to sleep or pacified with the application's mesmerizing motions, music, and sounds.
Links:
Baby Soother 3-in-1
Baby Soother Free
###