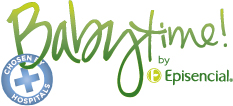 Ingredient lists can be hard to understand." said Kim Walls, MS and CEO of Episencial. "We are proud to be the first in the industry to take on this challenge and support parents' choices for their children.
LOS ANGELES, Calif (PRWEB) February 05, 2013
Episencial, the safe, effective natural skincare for babies chosen by more U.S. hospitals, proudly announces it has updated its name to BabyTime! by Episencial - reflecting the products' innate ability to enhance the everyday experiences between parents and their young ones. Whether splashing in the bath, cuddling on the couch or prepping for a day outdoors, BabyTime! has a natural skincare product parents can use with confidence and love knowing they are using safe and effective formulas with new labels that make it 100% clear where the ingredients come from; setting an industry standard for labeling authenticity and transparency.
"The one thing we as parents don't have enough of is time. So, what could matter more than making every moment count?" said Kim Walls, MS and creator of Episencial skincare formulas. "Babytime! is designed to make the most out of all of those daily tasks and routines with formulas that nurture and protect the health of skin and, therefore, the body."
Babytime! by Episencial chooses ingredients, at every opportunity, that function to provide nutrients to the body through skincare. Organic, natural, plant based ingredients that are as close to their natural form as possible have the capacity to impart significant benefits to the body because they are loaded with the good stuff: vitamins, minerals and other building blocks of life.
On Babytime! by Episencial labels, parents will find ingredients simply organized into three categories: 100% Natural (Light Blue); 100% USDA-certified Organic (Green), and; Plant Based (Dark Blue), removing any doubt as to their origin.
"Parents are always advised to 'read the label' of the products they use to ensure the health and safety of their children. But, let's be honest, ingredient lists can be a challenge to understand," continued Walls. "We are proud to be the first in the industry to take on this challenge and support parents' choices for their children. By simplifying our labels, moms and dads have more time to enjoy every moment with their kids and less to worry about."
Babytime! by Episencial continues to feature the products parents know and depend upon from the company's signature 3-step skin care system: Cleanse, Nourish, Defend.
1. Cleanse: Parents can choose from Playful WashTM, a 2-in-1 gentle shampoo and body gel and Peaceful BubblesTM, a 3-in-1 bubble bath, shampoo and body wash.
2. Nourish: Episencial's Soothing CreamTM helps relieve eczema, itches and bothered skin, while Snuggly LotionTM is a silky-light moisturizer for every day use.
3. Defend: Protect delicious baby skin with Cheeky Salve™, a balmy butter to treat chapped lips and cheeks, Sunny SunscreenTM SPF-35, water-resistant sun protection for the face and body; Nurturing BalmTM, designed to fortify, soothe and restore the diaper area and other sensitive places; and Mighty ShieldTM, a DEET-free bug repellent and soothing moisturizer.
Babytime! by Episencial products range from $9.00 to $25.00 and are available nationwide at leading retailers, including Buy Buy Baby Stores, Earth Fare, Sprouts, select Whole Foods and at many popular online stores, including dermstore.com, diapers.com, Episencial.com and ecomom.com. To find a store near you, visit http://www.episencial.com. Sales of Episencial products benefit the company's philanthropic partner Healthy Child, Healthy World and its mission to protect children from harmful chemicals.
About Babytime! by Episencial
With Babytime! by Episencial, skin care is health care with products designed for moms to enjoy every moment with their children. Episencial combines advanced skin care technology with Actively HealthyTM ingredients including probiotics, neem oil and botanically-sourced essential fatty acids and antioxidants to enhance skin immunity. Episencial was founded by Kim Walls, M.S., a second-generation skin care expert from the family behind Epicuren's world-renown anti-aging products, who couldn't find skin care products for her babies that met her professional standards for quality and care for the environment - so, she created her own!
http://www.episencial.com