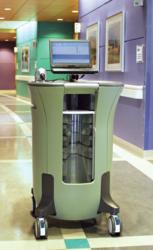 "We wanted a solution that would allow us to easily implement these features while optimizing the nurses' workflow, allowing them to spend more time with each patient. MedRover is the ideal solution for us."
Denver, CO (PRWEB) February 01, 2012
Swisslog, a leading provider of automated materials transport and medication management solutions for hospitals, today announced that Bacharach Institute for Rehabilitation in Pomona, New Jersey, has purchased MedRover™ mobile dispensing cabinets. The order is the first for Swisslog's innovative new medication management solution in the rehabilitation market.
MedRover is a mobile dispensing cabinet that offers stationary cabinet-level security with the mobility of a cart, enabling nurses to securely store and administer medications, including narcotics, at the patient bedside. MedRover is the only mobile medication dispensing solution of its kind.
"Our contract with Bacharach Institute is a landmark event in the long and successful history of Swisslog Healthcare Solutions," said Ben Hinnen, vice president of Swisslog's Automated Drug Management Systems (ADMS) business unit. "Known for decades as the leader in hospital pneumatic tube systems and more recently for our medication management solutions, this MedRover order, our first in the rehabilitation segment, demonstrates our solutions for our clients' most challenging needs – in this case, beside medication administration. I commend Bacharach on its vision and actions of applying innovative technologies for the advancement of patient safety," said Hinnen.
A desire to continually improve patient safety and new bedside verification initiatives led Bacharach Institute to MedRover. The units will be deployed throughout the hospital, eventually replacing existing stationary dispensing cabinets. Utilizing MedRover's RoverRN software, nurses will verify that the right patient is receiving the right medications at the bedside, while creating an electronic medication administration record for each patient. This information will be sent directly to the pharmacy for inventory replenishment and billing. MedRover's RoverRX software will be used within the pharmacy to keep a perpetual inventory of medications in the pharmacy and in each of the MedRover units.
"Implementing beside verification and an eMAR are key initiatives for 2012," said Maria Fuddy, Bacharach's vice president of Nursing & Patient Care. "We wanted a solution that would allow us to easily implement these features while optimizing the nurses' workflow, allowing them to spend more time with each patient. MedRover is the ideal solution for us. With MedRover, we'll be able to bring most of the medications a patient needs, including narcotics, directly to the bedside for administration without having to make multiple trips to stationary cabinets. We also took this opportunity to reevaluate our medication and nursing workflow processes to leverage MedRover's unique capabilities. While this obviously benefits our nurses, it ultimately benefits our patients in the form of improved safety and quality of care."
Bacharach Institute will begin implementing the MedRovers during the first quarter of 2012.
Swisslog Healthcare Solutions is the leading supplier of logistics automation solutions for healthcare facilities. Swisslog has installed automated materials transport and medication management systems in more than 3,000 hospitals around the world, including more than 2,000 in North America. Swisslog offers total systems design, manufacturing, installation and customer support providing a complete supply chain management approach to the logistics challenges of hospitals. The North American division of Swisslog Healthcare Solutions is based in Denver, CO.
About Bacharach Institute for Rehabilitation
Bacharach is an advanced inpatient and outpatient rehabilitation hospital. The main campus is in Pomona, New Jersey, with additional satellite offices throughout South Jersey.
Bacharach's goal is to get patients better, faster than ever thought possible. To that end, it utilizes the most innovative technologies available, coupled with a team approach that surrounds the patients with caring, qualified, doctors, nurses, physiatrists and rehabilitation specialists. The Institute offers a broad line of service – from stroke care to arthritis classes to hearing centers and its new sleep center. For more information, visit http://www.bacharach.org.
About Swisslog
Swisslog is a global provider of integrated logistics solutions for warehouses, distribution centers and hospitals. Its comprehensive services portfolio ranges from building complex warehouses and distribution centers to implementing Swisslog's own software to intra-company logistics solutions for hospitals.
Swisslog's solutions optimize customers' production, logistics and distribution processes in order to increase flexibility, responsiveness and quality of service while minimizing logistics costs. With years of experience in the development and implementation of integrated logistics solutions, Swisslog provides the expertise that customers in more than 50 countries rely on.
Headquartered in Buchs/Aarau, Switzerland, Swisslog currently employs over 2,000 staff in about 20 countries worldwide. The group's parent company, Swisslog Holding AG, is listed on the SIX Swiss Exchange (security number: 1232462, Telekurs: SLOG, Reuters: SLOG.S). For more information, visit http://www.swisslog.com.
###