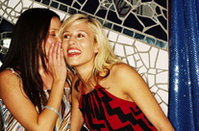 Our bachelorette party planning guides are there to help people stretch their budgets and get more for their money when it comes to party planning. With some guidance and organization they can get a bigger bang for the buck
Washington, DC (PRWEB) July 25, 2007
Tips for planning a bachelorette party that will be talked about for decades to come are now just a click away. The bachelorette party planning experts at Knot Just Yet have just published the first in a series of do-it-yourself bachelorette party planning guides.
The guides are available free from the company's Web site, bachelorette party guide, where the Adobe PDF documents can be viewed online and downloaded. More guides in the series will be released in the coming weeks, which will feature a variety of unique bachelorette party planning tips, hints and ideas.
"Our bachelorette party planning guides are there to help people stretch their budgets and get more for their money when it comes to party planning. With some guidance and organization they can get a bigger bang for the buck," Eddie Williams, events director for Knot Just Yet in Washington, DC, said. "We are giving away many of our "trade secrets" for free in these guides. When people use our techniques in their planning and organizing, we think they are going to have a more fun and memorable party even if they don't have the budget to hire professional planners like us."
The first article in the series covers the guest list. "Who is to be invited? Which family members should come? It starts with determining a guest list so the style of the party can match the personality of the majority," Williams said. "The group size matters. With smaller groups, such as five to six girls, the bill tends to be more expensive per person because fewer people are dividing one lump sum. Fixed costs like limousines can be expensive with fewer people. However, fewer people are easier to manage and the party is much more intimate."
Future guides in this do-it-yourself bachelorette party planning series will explore topics such as: how to select a date for the event and when not to have it, bachelorette party ideas-- from creative to risqué, setting a budget, selecting the right venues, how to get special V.I.P treatment everywhere, what gifts to buy and games to play, asking the right questions to limousine companies, how to hire a reliable private dancer, how to ensure that everything goes right and making a check list and covering all the easily forgotten details.
About Knot Just Yet:
Knot Just Yet is a Washington, DC company that plans bachelorette parties featuring bar and club crawls, spa events and other unique party packages in over 25 US cities including: Miami, Chicago, New York, Las Vegas, Los Angeles and Detroit. Knot Just Yet's services have been featured throughout the media including I Do for Brides magazine and Washingtonian Weddings.
###