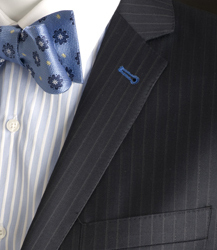 Men are looking for a way of differentiating themselves in a highly competitive marketplace
(Vocus) March 24, 2009
It's not all doom and gloom in the retail sector. Bachrach, the venerable men's fashion merchant founded by Henry Bachrach in 1877, expects record sales this Easter. Its secret weapon? Custom tailored, personally designed suits, created from scratch by the customer, for just $495, delivered in two weeks.
"Men are looking for a way of differentiating themselves in a highly competitive marketplace," says Kurt King, a regional manager for Bachrach. "They don't want to wear a suit that a million other men are wearing."
Since a test rollout last August, Bachrach has sold nearly 3,000 custom tailored suits. The custom program is experiencing double-digit growth and is appealing to a broad audience, from job seekers to deal makers to fashionistas.
Each Bachrach store offers a boutique-like setting where customers can sit down for a personalized shopping experience. A specially trained suit consultant helps customers choose every detail of their suits, including fabric, buttons, pockets, lapels, lining, and stitching.
"The expression on their faces is priceless when the suit comes back from the tailor in two weeks, custom made to their specifications. First you hear the wows in the fitting room. Then they look into the mirror and can't believe it," says King.
Customers are flocking to Bachrach for options hard to find anywhere else. For example, its one-button, single-breasted, peak lapel suits are especially popular with fashion connoisseurs. Its Y body "slim fit" suits are especially popular among the younger, trendier crowd. And its points to split lapels with contrast stitching are as popular as they are unusual, allowing customers to choose from different collar treatments on their tuxedos and dress suits.
"Years ago, men came to us asking how to blend in. Now they come to us asking how to stand out. They see custom tailored suits as a way of creating their own look, of boosting their self-confidence, and ultimately, of reinventing themselves," says Steve Lucas, VP of Sales for Bachrach.
Lucas notes that about 75% of those who buy a custom suit become repeat customers, and that 50% of its business is coming from first-time customers. "We've been around for 131 years, but now a whole new generation of customers is discovering us. Everyday we're getting new referrals from people who can't find this level of personalization anywhere else," Lucas explains.
Bachrach suit consultants take up to 30 different measurements. In addition to the more typical measurements of waist, neck and inseam, consultants assess body type, fit, posture and stance. Each consultant has received advanced training in the new custom tailored process, from the fine points of chest and shoulder measurements to the intricacies of fabric, stitching, tailoring and suit construction.
Many of Bachrach's stores already have a waiting list for customers to get measured up. Bachrach suit consultants spend personalized time with the customer, helping them to design a suit that perfectly fits their style and personality. The consultants' calendars fill up quickly, so customers are advised to make an appointment several days in advance.
Bachrach operates over 40 stores in major metropolitan markets (five of which are in Chicago) across 13 states as well as a nationally distributed catalog and e-commerce business, http://www.bachrach.com .
To get an appointment with one of Bachrach's suit consultants, or request a catalog, call 1-800-222-4722.
###