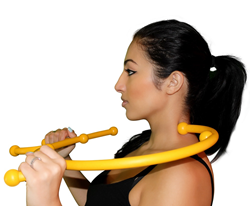 Whether it's back pain, a lack of quality sleep, or the need for relaxing massage tools, look no further than Nayoya. You owe it to yourself to have a pain free, stress free living
Los Angeles, CA (PRWEB) October 15, 2014
Nayoya Wellness, a company that specializes in cutting-edge fitness and therapy tools, recently announced the launch of its new Nayoya Back Hook Massager on Amazon. The back massager, which is patent pending, possesses the ability to break up the fascia and help muscles recover and grow.
The Nayoya Back Hook Massager is unique because it uses controlled pressure and nine knobs along its hook-shaped design to alleviate pain in tense muscles. Two of the nine knobs are spaced two inches apart, aiding in the stimulation and relaxation of tense neck muscles and thigh muscles. In addition to athletes, bodybuilders, cross fitters, gym goers, and massage lovers, individuals going through physical therapy can benefit from this tool because it revitalizes and energizes—proving itself more effective than rollers, shiatsu massagers, and tennis balls.
Many use the massager to soothe knots, tense back shoulders, and neck muscles, as well as myofascial release. Additionally, the massager uses trigger point therapy to break up tense muscles. According to a representative of the company, this product is trusted by physical therapists and chiropractors since it helps to break up the fascia to help muscles recover and grow.
To order the Nayoya Back Hook Massager, individuals can visit Nayoya Wellness' storefront on Amazon. The massager is available for 67 percent off the suggested retail price and is backed by a 60-day money-back guarantee.
"Nayoya Wellness aims to offer every possible solution to life's daily problems," stated a representative of the company. "Whether it's back pain, a lack of quality sleep, or the need for relaxing massage tools, look no further than Nayoya. You owe it to yourself to have a pain free, stress free living."
Individuals interested in learning more about Nayoya Wellness can visit the company's main website for more information.
About Nayoya Wellness:
Nayoya Wellness is committed to providing each customer with the highest standard of customer service. Anyone who is interested in improving his or her quality of life through improved fitness and therapeutic tools is encouraged to visit the Nayoya website where customers will find items such as gym rings, back pain relief sets, cellulite removing massage gloves, lightproof sleep masks and abdominal mats for full range of motion ab workouts. For more information, please visit http://www.amazon.com/Manual-Massager-Patent-Pending-Shoulder-Massaging/dp/B00M3IN2MK