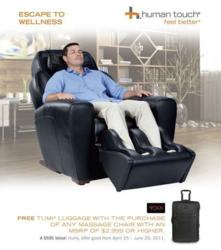 The Human Touch products featured in this promotion are great gifts for dads
Los Gatos (Vocus/PRWEB) June 11, 2011
All of that bending over backward for his family has probably taken its toll on dear old Dad's back. We've Got Your Back, a Bay Area back health store in Los Gatos, is helping families show Dad some support with special promotions for Father's Day. Right now, they're offering the opportunity to give Dad the gift of comfort from Human Touch, and receive an extra free gift to go with it.
We've Got Your Back is adding a free Tumi Travel Bag with the purchase of an Elite Series Massage Chair. They are also giving away a free Bose Headset with purchase of the ultimate in comfort, the Zero Gravity Perfect Chair.
"The Human Touch products featured in this promotion are great gifts for dads," says founder Rita Marcojohn.
She notes that these chairs offer pain relief and relaxation in the moment, but also help with long-term health. They are the perfect way to enjoy relaxation and massage any time.
Regular massage offers several measurable health benefits that help promote everyday health. By increasing circulation, the body can pump more oxygen and nutrients to tissues and vital organs, which promotes faster healing and a return to a health state.
Regular massage also stimulates the lymph system—the body's natural defense against toxic invaders—to help avoid sickness and promote an overall sense of wellbeing. And massage prompts the body to release endorphins, the body's natural painkiller, easing sore, tired muscles
Beyond physical benefits, massage helps reduce stress, anxiety and fatigue, and allow the body and mind to be better in tune. This is significant, considering that both short- and long-term stress trigger changes in the body that increase the likelihood of getting sick, raise the risk of serious conditions like heart disease, and can exacerbate existing problems.
The cumulative effects of regular massage can strengthen and tone the entire body to help prevent unnecessary strains and injuries that might otherwise occur due to excess tension. Never has something so comfortable, indulgent and convenient helped so many people feel better, play better and perform better.
For more information about special Father's Day promotions or any of We've Got Your Back's health and wellness services, call them at (408) 395-1122 or view them on the web at http://www.back2active.com, or visit their store located at 114 Royce Street in Los Gatos.
About We've Got Your Back
We've Got Your Back is a San Francisco Bay Area health store that specializes in helping customers eliminate back pain. Their staff includes experts on back pain, fitness, massage therapy. We've Got Your Back is dedicated to information and education about how to telax, strengthen and repair back pain. They are a San Francisco Bay Area community organization dedicated to health, fitness, and wellness for everyone.
###