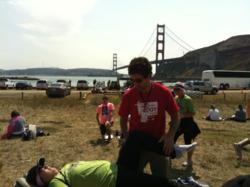 San Francisco, CA (PRWEB) June 03, 2013
ProActive Chiropractic is excited and proud to be volunteering at the Susan G. Komen Breast Cancer Walk June 21-23. This will be ProActive Chiropractic's sixth year participating in the walk.
Rain or shine, the walk's three day route covers about 15-22 miles each day for three days in a row. The Bay Area's terrain and communities are ideal for the walk, as participants will have beautiful views of the city and a warm welcome from locals. Walkers must raise a minimum of $2,300 to participate in the walk.
For years, ProActive Chiropractic's Dr. Andrew Cohen spent three days as a volunteer in the sports medicine tent. Cohen was inspired and motivated by the participants drive to complete their 60 mile journey through the city, as well as the other volunteers who do their best to support the walkers. Though the three day event is an all-consuming time commitment, Cohen is excited to continue to do his part to help the walkers, who have worked hard and raised money, to reach the finish line.
Walkers of the 3-Day save $50 on their first visit at ProActive Chiropractic with proof of registration.
For more information on the Susan G. Komen Breast Cancer Walk, please visit their website at: http://www.the3day.org.
About the company:
ProActive Chiropractic practices healthcare the old-fashioned way. Care is provided in the chiropractic office by doctors; not a machine, not an assistant, not a technician. Customers spend a minimum of 20 minutes of face-to-face time with chiropractic doctor, Andrew Cohen, perhaps the best chiropractor in the Bay Area, at every appointment. He sees patients for low back pain, neck pain, shoulder dysfunction, knee complaints, ankle sprains, jaw pain and migraine headaches, just to name a few primary complaints.
For those unsure that ProActive Chiropractic's unique approach to chiropractic treatment is the right avenue to take, consider their satisfaction guarantee. Their personal pledge assures that their customers are happy with their practice philosophy and approach. If customers are not completely satisfied following their first session, simply tell the staff at the end of the appointment and they will refund the money in full on the spot. For more information, please visit their website at http://www.ProActiveSF.com.