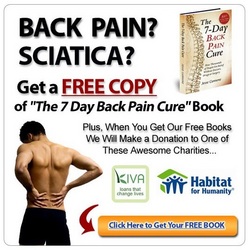 One thing that sets us apart is our unique line of highly effective products which are not found anywhere else. We offer cutting edge information on our site. Patients can't find this info on traditional websites, so you never get the same regurgitation of facts, or junk science
Gaithersburg, MD (PRWEB) October 3, 2010
The Healthy Back Institute is known for their "Lose the Back Pain" System and inversion tables, now the Healthy Back Institute moves forward by providing their customers with even more alternative cures.
Healthy Back's new products will instruct pain sufferers on how to treat neck pain, knee pain, foot pain and shoulder pain. Their new line of products is scheduled for public release within the next 6 months. "One thing that sets us apart is our unique line of highly effective products which are not found anywhere else. We offer cutting edge information on our site. Patients can't find this info on traditional websites, so you never get the same regurgitation of facts, or junk science," says Jesse Cannone, Owner of The Healthy Back Institute.
Each treatment method is a stand-alone item which includes self treatment products and a series of video and audio for reference. The treatment plan instructs pain sufferers on how to address the underlying issues that are causing the pain. After the cause has been determined, the treatment method will be recommended, instructing them on the best remedies based on the causes, symptoms, and pain location. The treatment method will not always suggest a treatment plan from Healthy Back, but can lead them to seek another treatment method such as acupuncture or to consult a physical therapist.
Healthy Back also manufactures certain devices that can help alleviate these problems. This includes products like back-pain alleviating office chairs, physical therapy workout equipment, and lumbar support pads. There are even nutrient-rich pills and dietary facts so the customer can treat his or her problem with healthier bones and muscles. For immediate pain relief, Healthy Back sells pain relief creams and gels that penetrate deep, targeting the pain so that sufferers can continue their day.
"Our company mission is to help change the way people deal with back pain. We're trying to help them with more than just back and neck discomfort; there are many subsequent mental and emotional issues that can stem from prolonged pain," says Jesse Cannone. The Healthy Back Institute is committed to changing the way patients deal with back pain, instead of having a doctor prescribe a cortisone shot or pain medication, Healthy Back seeks to find the root cause of your pain and eliminate it.
The Healthy Back Institute has aided people from around the world with their unique brand of self-treatment products. Their customer base covers everyone from blue collar workers who have extensive back pain to the wealthiest people in America who are stressed due to the harsh economic times. Healthy Back has treated people from over 120 different countries and approximately 30% of their customers are from outside the US, Canada and the UK.
Healthy Back is always seeking new ways to treat patient pain through their comprehensive system, changing the very concept of how traditional doctors deal with back pain.
About The Healthy Back Institute:
The Healthy Back Institute was founded in 2001 by rehabilitation expert Jesse Cannone and massage therapist Steve Hefferon. Jesse Cannone has helped people all over the world achieve their fitness goals though his extensive list of articles, books, programs and seminars. Lose the Back Pain System is the worlds first self-assessment and self-treatment program designed for back pain sufferers and has sold over 55,000 copies across the globe.
###