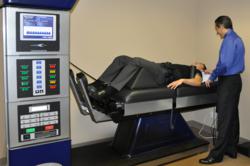 Spinal decompression is a non-surgical process that applies force to the spine, maximizing spinal elongation
Campbell, CA (Vocus/PRWEB) March 25, 2011
For San Francisco Bay Area Peninsula residents, relieving chronic back pain, sciatica and spinal stenosis is now more convenient thanks to the addition of Crossroads' new center in San Mateo. The new center offers the same services as the Campbell location, including a money-back guarantee if one is not satisfied with the work after three visits. The new San Mateo facility is now open and located at 177 Bovet Road, Suite 150 in San Mateo.
"They are knowledgeable, friendly, and honest," said Crossroads Health Center client Sarah K. "They want to help people feel better and live better--I know because they've helped me do just that! I can now sleep through the night without waking up in agonizing pain; I don't have to take pain medications anymore because the pain is gone! I can even stop by for an unplanned adjustment if I'm experiencing unexpected tightness or any pain."
Crossroads Health Center offers the innovative practice of spinal decompression in the San Francisco Bay Area. Spinal decompression is one of the most important medical advances in the non-surgical, noninvasive treatment of back pain in the past 10 years. Neurologists, orthopedic surgeons, chiropractic physicians, family physicians, pain specialists and physical therapists are now utilizing this FDA cleared spinal decompression technology across the United States, Canada, Europe and Asia.
"Spinal decompression is a non-surgical process that applies force to the spine, maximizing spinal elongation," said Dr. Thomas Ferrigno. "When paraspinal muscles - the muscles that guard the spine from injury - are relaxed, spinal elongation becomes maximized and bony vertebra of the spine are spread. This relieves pressure on nerves and intervertebral discs."
Where this spinal elongation occurs, the pressure drops within the disc causing a vacuum effect, which facilitates the movement of fluid, carrying nutrients and oxygen inside the disc. Additionally, the reductions in pressure helps draw in herniated disc fluids, reducing the size of the herniation.
For more information about the new San Mateo facility or any of Crossroads Health Center's services, call them at (650) 375-2545 (San Mateo location) or (408) 866-0300 (Campbell location), view them on the web at http://www.BayAreaBackPain.com, or drop by one of their centers located at 420 Marathon Drive in Campbell or 177 Bovet Road, Suite 150 in San Mateo.
About Crossroads Health Center
Crossroads Health Center is a spinal decompression facility that specializes in back pain, sciatica, degenerative disc disease, spinal stenosis, weight loss, and herniated discs in the San Francisco Bay Area. Crossroads Health Center serves the San Francisco Bay Area communities of Atherton, Brisbane, Burlingame, Campbell, Colma, Daly City, Foster City, Half Moon Bay, Los Altos, Los Altos Hills, Los Gatos, Menlo Park, Montara, Mountain View, Pacifica, Palo Alto, Redwood City, San Carlos, San Francisco, San Mateo, Santa Clara, Saratoga, South San Francisco, Sunnyvale, and Woodside.
###