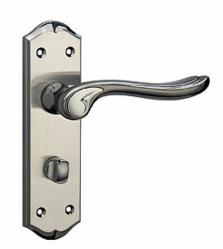 (PRWEB UK) 30 October 2012
Today Door Handles Ltd, leading online supplier of door handles is continuing with it's weekly tips on interior design by advising customers on what to look for when buying a back plate door handle. Everyone wishes to have a perfect decorated home. People spend their spare time in decorating the home and try to make the home better than the neighbours. Some people love to upgrade the house with the latest trends and fashion but at the same time some people prefer old and traditional designing. Back plate door handle perfectly match with the iron furniture or the old wooden furniture.
A back plate door handle posses a unique charm that adds a marvellous glamour to the exteriors and interiors of the home while giving them a traditional and classic look. The owners of traditional and antique designed home must give a try to the Back plate door handles as they are more suitable for antique decoration of home. Back plate door handles are more popular for kitchen doors, living room and dining room doors as they give a traditional look and get the attention of the visitor in no time. The Back plate door handles are getting popular because of their elegant looks and their durability.
The Back plate door handles suits perfectly with the black furniture and makes a perfect match. No matter it is the door of the kitchen with the black interior of the living room Back plate door handles will suit at their best. They give a fabulous look to the home. They are very functional allowing the owner to open the door at their most convenient level. These handles are now considered as the most important part of decoration while the interior is being decorated with black furniture. Its classy and traditional look captures the glance of the visitor.
If the owner decides to use Back plate door handles then black antique fitting will add as a beauty to the room. For these gently and elegantly designed handles it is necessary that fitting with equal beauties must be used. There are different designs of fittings available in different stores. Before choosing one it is must to check whether the fittings match with the Back plate door handles or not.
The Back plate door handles are available in different shades and designs but mostly charcoal black door handle is used. This shade of colour is very adoptive and easily gets matched with the interior.
Material used
Iron is the most important material used in these Back plate door handles. Iron gets rusted easily but the outer layer of aluminium and other materials used does not allow the iron to get rusted. Thus this makes these Back plate doors handles available for long lasting use.