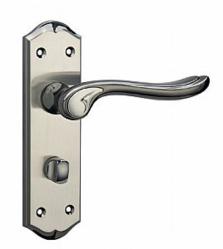 The back plate door handles have evolved through the years and they are now definitely not only very functional but aesthetic as well.
(PRWEB UK) 3 November 2012
Door Handles Ltd, one of the leading online suppliers of door handles in the UK is today advising their customers on the different types of back plate door handles and also advising on the best locations and styles that are best suited for different requirements. No matter what type of interior design has been applied to a space, there is always a specific style of back plate door handles to match. Space designed with the modern look can always benefit from contemporary-styled handles made of leather, nickel or chrome. On the other hand, the more traditional settings would do well with the classic, brass-finished handles.
Most modern kitchens are designed with doors and cabinets that are a great match for chrome handles as they are not only attractive but also durable and can withstand wear and tear of daily and constant use. Even an ordinary kitchen or any room for that matter can get a new look when chrome handles are used. It may be a small and minor detail but people will always be able to tell that something is different in the room.
Back plate door handles made of chrome are fashionable today because they are easy to clean and do not need expensive cleaning solutions to maintain. Homeowners who have installed chrome handles on their interior or even exterior doors will attest that a simple cloth dabbed in water is enough to keep the handles clean and presentable again. However, those who want to keep their handles more sanitized use a sanitizing solution regularly.
Chrome handles are also a favorite because they are very stylish and trendy. The popularity of these handles can be attributed to their beauty and luxurious feel even if most of them are very affordable. These handles however have to be cleaned and buffed regularly to keep their looks for a long period.
Consumers can feast their eyes on the various styles and designs of back plate door handles including the following:
Georgian Roped
Brass handles with the attractive Georgian Roped design are available in a square back plate. These lacquered-polished handles can match any traditional interior. What makes them a must for every door renovation project is that they come with countersunk screws that can be easily loosened and tightened during the installation process. The rope edge is a detail that will get the attention of everyone, even those who do not care much about designs.
Victorian Classic
The Victorian-styled handles can fit any interior so it is ideal for almost all setting whether it be residential or commercial. The secret to its all-around appeal is the different types of finishes including polished brass, polished nickel and satin nickel finishes. These handles are guaranteed to look great when used as a fixture for restaurant doors, classroom doors or even hotel doors.
The back plate door handles have evolved through the years and they are now definitely not only very functional but aesthetic as well.