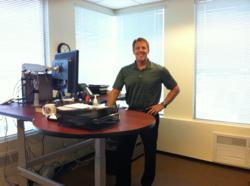 Tim Penick is an impressive and powerful executive. He demonstrates his commitment to health and fitness by 'walking the talk' both at home and at work
Los Gatos, CA (PRWEB) October 08, 2011
Los Gatos back store, We've Got Your Back CEO and Founder of Embedded Resource Group, Tim Penick, has made a lifestyle change by changing the furniture in his corner office. He has replaced his traditional executive desk and chair with a sit-to-stand workstation and a Swopper stool to promote health and comfort at work.
"Tim Penick is an impressive and powerful executive. He demonstrates his commitment to health and fitness by 'walking the talk' both at home and at work. He has back pain that he has chosen to manage with changes to the way he works. Sit-to-stand desks, combined with morning workouts and regular massage from his Human Touch Massage chair have enabled him to maintain a life free from pain. He sets the example for all of us," said Rita Marcojohn of We've Got Your Back.
Penick's work is fast-paced, spending most of his time on the workstation using the phone and his computer. Los Gatos ergonomic seating company, We've Got Your Back's products allow him to maintain a healthy lifestyle and to work with comfort and relief. Not only does he incorporate fitness, stress relief and healthy work styles into his daily routine but changing his workstation also makes a statement and sets an example for the rest of the company.
To learn more about Embedded Resource Group, please visit their website at http://erginc.com.
Along with these amazing products,Los Gatos' doctor recommended pillows at We've Got Your Back provided Tim with full service set up that included his workspace design, ergonomic assessment and recommendations for workflow. With the noticeable impact of his new workstation to his lifestyle and career, he has been happy with the products and the services that this back store has provided him.
For more information, call 408-395-1122 or visit http://www.back2active.com.
About We've Got Your Back
We've Got Your Back, located in Los Gatos, is a female-owned business delivering best-in-class products such as tension relief products, neck pillows, zero gravity chair, doctor recommended pillows and other ergonomic accessories. From ergonomic seating and accessories to fitness training and gear, We've Got Your Back focuses on promoting products to assist employees from small to large businesses in staying healthy and fit at work amidst the rise of muscular problems such as back pain and neck pain that constitutes the largest job-related illness and injury problem in the U.S. today.
###