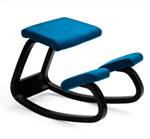 We decided to add it because customers have been requesting it for quite some time. It was in fashion several years ago and fell out of style for a while
Los Gatos, CA (PRWEB) February 10, 2012
We've Got Your Back, a Los Gatos company that offers products and services in ergonomic seating and accessories, fitness gear, and comfort solutions, announces the addition of the Variable balans Kneeling Chair by Varier to the store's extensive product line.
"We decided to add it because customers have been requesting it for quite some time. It was in fashion several years ago and fell out of style for a while. It seems to be back and a favorite way to work for many," owner Rita Marcojohn of We've Got Your Back said.
Designed by Peter Opsvik and introduced in 1979, the Variable balans is the original Kneeling Chair. This landmark design inspired a whole new concept of alternative and active seating based on movement, open body angles and natural spine alignment. The Variable balans is the perfect instrument for children or adults who work at a desk. Runners and kneepads promote an open and dynamic sitting position that keeps the spine in its natural curvature and improves breathing. The chair gives the body the freedom to find its own equilibrium, keeping back and abdominal muscles working. While tension in the back and shoulders is prevented, active sitting improves circulation and oxygen levels; thus, concentration and creativity during work.
While ergonomists agree that no single chair or seating solution is the optimal ergonomic chair for everyone, most agree that movement through a variety of proper postures is essential to healthy sitting. Moreover, the concept of an open body angle between the hips and lower torso is most favorable.
Varier is a global leader in Human Design, the fusion of aesthetically pleasing designs and the knowledge of what is good for the human body. The Varier product is the best to deliver all the benefits of the original balans design concept. This generation of human design seating is available in attractive colors and styles.
For more information about the featured product or any of We've Got Your Back's products and services, call 408-395-1122, view the store on the web at http://www.back2active-bayarea.com or visit 114 Royce St. in Los Gatos.
About We've Got Your Back
We've Got Your Back is a women-owned Los Gatos back store that delivers best-in-class products and services in ergonomic seating and ergonomic accessories, as well as fitness gear and comfort solutions. Its goal is to provide tension relief and ultimately eliminate the root cause of back pain and neck pain. The showroom in Los Gatos was designed to serve the community with educational programs, fitness training and product demonstrations.
We've Got Your Back offers its products and solutions to support the home office, telecommuter or the office workstation with training, chair fittings, ergonomic assessments and life-style support programs. Products include zero-gravity chairs, neck pillows, doctor-recommended pillows and more.
###