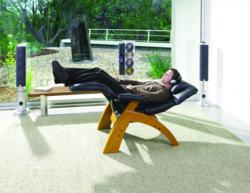 Los Gatos, CA (PRWEB) March 16, 2012
We've Got Your Back, a Bay Area ergonomic seating retail showroom with accessories, is currently announcing its semi-annual floor model sale, featuring Human Touch Zero Gravity Recliners and Human Touch Massage Chairs. The event gives the company an opportunity to provide its best-selling chairs, available in like-new condition, for 20- to 30-percent off the MSRP.
Typically, these chairs are sold within six months after purchase from Human Touch and carry a like-new manufacturer's warranty. Many customers look forward to this event as they have already picked out their favorite Perfect Chair. However, due to limited supplies, this event is an "act fast and take it home" today sale.
The popular Human Touch Perfect Chair has been in limited supply since the November 2011 storms that flooded the factory and shut down manufacturing. Many customers have been waiting to purchase the new chair for several months. The Zero Gravity recliners and Human Touch Massage chairs are best sellers and the ultimate chair for comfort and relaxation. The Human Touch 9500 Massage Chair is the top of the line for Human Touch and gives a total body massage, perfect for relaxing and relieving everyday stress, aches and pains. Besides offering Human Touch Perfect Chairs, the store also offers doctor-recommended cervical and lumbar pillows and the best in ergonomic seating by Humanscale, Office Master and Via.
For more information about the floor model sale or any of We've Got Your Back's products or services, call 408-395-1122, view the back store on the web at http://www.back2active-bayarea.com or visit 114 Royce St. in Los Gatos
About We've Got Your Back
We've Got Your Back is a women-owned business delivering the best-in-class products and services in ergonomic accessories and seating, fitness gear and comfort solutions. Its goal is to provide education, information and products that ultimately eliminate the root cause of back and neck pain, as well as provide tension relief. The showroom in Los Gatos was designed to serve the community with educational programs, fitness training and product demonstrations.
We've Got Your Back offers its products and solutions to support the home office, telecommuter or the office workstation with training, chair fittings, ergonomic assessments and lifestyle support programs. Products include zero gravity chairs, massage chairs, sit-to-stand desks, doctor-recommended pillows, neck pillows and more.