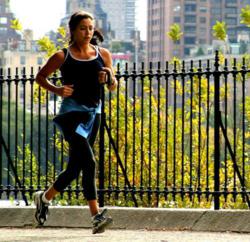 After a hard work out or long run, recovery strategies are important to build strength, endurance and performance
Los Gatos, CA (PRWEB) April 18, 2012
The spring season is here, and with it comes the wear and tear of outdoor activities, such as jogging, running, cycling, boot camps and Crossfit training. We've Got Your Back, a Los Gatos' back store that offers solutions for fitness training, back pain and tension relief, is now featuring tips and tools to help with spring training and recovery.
"After a hard work out or long run, recovery strategies are important to build strength, endurance and performance," Rita Marcojohn of We've Got Your Back said.
We've Got Your Back recommends the following tools and lifestyle products to help:
1) Trigger Point's performance therapy tools help find the parts of that body that have been over or under worked, and help the user recover between workouts to maximize performance and strengthen the body from head to toe.
2) For those who are often on their feet or for runners, the Human Touch Foot Massager is a must. During the month of April, We've Got Your Back is offering this product at a $100 discount, so don't miss out.
We've Got Your Back offers a variety of products, including ergonomic seating, zero gravity chairs and ergonomic accessories, and is also excited to announce that it is continuing its floor model sale.
"We have some Human Touch Massage Chairs and the best ergonomic office chair models left, and we can make you an amazing deal!" Marcojohn said. "Come by to see if this year's spring deals can give your home office a whole new feel."
We've Got Your Back will be hosting a Lunch and Learn event featuring Dr. David Noel of Noel Chiropractic. He will be talking about headaches: its causes and how to deal with it. We've Got Your Back invites the community to attend the talk on April 27 from 11:30 a.m. to 1:00 p.m. The event includes lunch and a reservation is appreciated.
For more information about any of We've Got Your Back's products or services, call 408-395-1122, view the back store on the web at http://www.back2active-bayarea.com or visit 114 Royce St. in Los Gatos
About We've Got Your Back
We've Got Your Back is a women-owned business delivering the best-in-class products and services in ergonomic seating and accessories, fitness gear and comfort solutions. Its goal is to provide education, information and products that ultimately eliminate the root cause of back and neck pain. The showroom in Los Gatos was designed to serve the community with educational programs, fitness training and product demonstrations.
We've Got Your Back offers its products and solutions to support the home office, telecommuter or the office workstation with training, chair fittings, ergonomic assessments and lifestyle support programs. Products include zero gravity chairs, neck pillows, massage chairs, sit-to-stand desks, doctor recommended pillows and more.