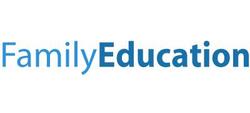 They will learn everything from what to pack in their children's backpacks and lunchboxes to how to be sure their kids are ready for what they will be learning this school year.
Boston, MA (PRWEB) August 12, 2008
Before they head out to the mall to do their back-to-school shopping, parents can visit FamilyEducation to be sure they have the coolest back-to-school supplies and the latest fashion trends on their children's shopping lists. And with the National Retail Federation predicting that the average family with school- age children will spend about $600 on back-to-school shopping, FamilyEducation offers parents tips on ways to minimize the impact on their pocketbooks, while ensuring their children have everything they need.
Of course, every parent knows that the most important thing is for kids to go back to school ready to learn and FamilyEducation offers a special K-12 Grade-by-Grade Guide: What Will Your Child Learn This School Year? For each grade, the guide offers information about what parents can expect will be happening in their children's classrooms in math, reading, science and social studies. Plus, parents will find learning activities for kids that will help sharpen their skills in these important subjects.
"Back to school is both an exciting and nervous time for parents and kids. With FamilyEducation's wealth of information about how to prepare for this momentous event, families will know how to prepare kids for a happy, successful school year," said Jess M. Brallier, publisher, Family Education Network. "They will learn everything from what to pack in their children's backpacks and lunchboxes to how to be sure their kids are ready for what they will be learning this school year."
Using FamilyEducation's 2008 Back-to-School Countdown Calendar, parents can ease the transition from summer vacation to the first day of school for their children. Each weekday, the calendar features new in-depth information on a back-to-school topic, such as "Reading Readiness" or "Teens and Back-to-School Worries." Back-to-school activities, advice on parenting and tips and other important tools for getting kids ready to be successful in school are included for each topic.
FamilyEducation also offers parents a school search tool where they can research specific details about their children's school. They can get information such as test scores, student-teacher ratio and enrollment numbers as well as find out how other parents have rated it and read their comments.
Every parent knows that if kids feel confident at school, they will be more successful. With FamilyEducation's "Hot School Supplies for Back to School" slideshow, parents will know what back-to-school supplies to put on their shopping list. Moms and dads will discover the cool items such as a staple-free stapler, wheeled backpack, vintage lunchboxes and easy-to-use padlocks for lockers that will get their kids excited about going back to school.
After visiting the "Top 2008 Back-to-School Clothes & Fashions " slideshow, parents and children can make a shopping list for the mall that includes the hippest trends in back-to-school clothes. This year, ballet flats are the trendy shoe choice for girls with textured tights adding a little flair to any skirt or dress. Meanwhile, boys are donning graphic t-shirts and funky canvas sneakers.
While all parents want to be sure their kids have everything they need to go back to school, in this tight economy it is important to find ways to save. FamilyEducation gives parents the "Top 10 Ways to Save" on back-to-school shopping in a slideshow. Watching for sales at their favorite stores, clipping coupons, shopping online and visiting dollar stores and garage sales are among the cost-saving suggestions.
With the site's back-to-school checklist , parents can be sure they have taken care of everything before the big day. The list offers parenting tips for the month before, the night before and the first day of school.
About FamilyEducation
FamilyEducation is the leading online publisher of practical parenting guidance, expert family advice, printables, skill-building exercises and activities for children. FamilyEducation.com is dedicated to educating parents and parents-to-be so they can raise healthy, educated and well-rounded children.
FamilyEducation is part of Pearson, the world's largest integrated education company. Pearson's other primary operations include the Financial Times Group and the Penguin Group.
# # #