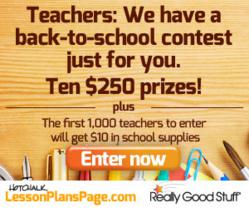 "Supplies are always needed, especially when you have none to start with in the first place. I would be extremely grateful to win some money so I can supply my eager readers with books and supplies!" - Darren McDonald, contest participant
Campbell, CA (PRWEB) September 20, 2012
HotChalk Lesson Plans Page wants to provide teachers with supplies for a new school year with its first Teacher's Back to School Supplies Contest. Hotchalk Lesson Plans Page, the leading free lesson plans website for teachers, has teamed up with Really Good Stuff, an online store for creative and fun teaching tools, to give away away more than $12,000 in classroom supplies to teachers. To enter the contest teachers create and share a wish list of three things they need to get the new school year off right. The contest, found on the HotChalk Lesson Plans Facebook page, will give 10 deserving teachers a $250 coupon for Really Good Stuff. The first 1,000 teachers who enter the contest will receive $10 off all purchases from Really Good Stuff. This contest is free and lots of fun! Here are details on how teachers can participate:
Teacher's Back to School Supplies Contest

Educators tell us the three things they need for their classroom
Next, they share their entry with parents, family and friends and ask them to vote for their entry
The 10 entries with the most votes will win a $250 coupon from Really Good Stuff
The first 1,000 entries receive a $10 coupon from Really Good Stuff
Contest runs through Oct. 12
Budgets can be tight and schools need to watch every penny. With teachers spending hundreds of dollars out of their own pockets to support their classrooms, HotChalk wants to help teachers save money. For more details on the contest or to view and vote for teacher entries, visit http://www.lessonplanspage.com/contests.