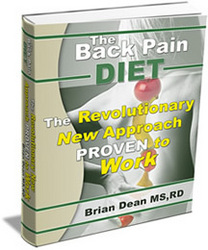 The Back Pain Diet: The Revolutionary Approach Proven to Work.
Bellingham, WA (Vocus) July 24, 2009
A noted registered dietitian is getting to the bottom of the epidemic of chronic back pain with a new diet that holds the key to relief.
Brian Dean, M.S., R.D. developed the medically supported diet program that alleviates the inflammation at the heart of chronic back pain. He explains the concept of the diet in detail in his new book, "The Back Pain Diet: The Revolutionary Approach Proven to Work." Even more, he has compiled more than 100 recipes in "The Back Pain Diet Cookbook."
Dean's work is earning notice and respect from the medical community.
"Brian Dean, R.D's Back Pain Diet is a remarkable breakthrough in the field of medicine,". said Marie Gabrielle A. Laguna RMT, M.D. "As medical practitioners, medical textbooks have taught us about the anatomic and physiologic causes of chronic back pain. It has also elaborated on symptomatic treatment with pain relievers, which may pose harm to patients, especially to the elderly. The role of diet in back pain was never established in the past. Brian Dean's cookbook makes it easy for the back pain sufferer to stick to the recommended diet while being nutritionally balanced at the same time. It is a remarkable breakthrough indeed!"
After suffering from back pain himself for years, Dean found that the medical community was not offering real, long-term solutions. As a dietician, he strongly believes in the connection between food and health. He followed his well-researched diet and immediately found relief. Soon, he began prescribing it to other back pain sufferers.
Scott Dobos of Boston followed the diet while enjoying Dean's tasty, creative recipes.
"After following Brian's diet for just a few weeks, I experienced major relief from chronic back pain that has plagued me seven years," Dobos said. "The diet is easy to follow and the recipes in his cookbook are delicious."
For more information or to order Dean's books, visit http://www.backpaindiet.com.
# # #