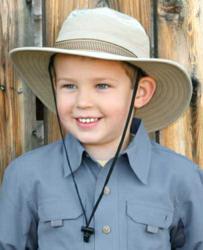 San Diego, CA (PRWEB) August 21, 2012
Summer may be ending and school starting, but UV (ultraviolet) rays from the sun are still dangerous and damaging.
In order to teach children the importance of sun protection, it is important to know the facts about these invisible rays that cause short and long-term damage to skin.
There are two man types of UV rays: UVA and UVB. While UVB radiation is the strongest between the hours of 10:00 A.M. to 3:00 P.M., these rays will lessen as winter approaches. On the other hand, UVA radiates with full effect throughout the day and all year long. This makes UVA radiation much more dangerous. While UVB causes sunburns, the blame for premature aging can be placed on UVA. UVA is also the most dangerous ray for those who suffer with diseases like lupus. Both types of radiation can cause skin cancer.
Teaching children the importance of sun protection will start them on a path to healthy skin. The most common form of cancer in the United States is skin cancer and some experts believe that excessive sun exposure in early years may be to blame.
It is never too early to start educating children about sun protection. Sun exposure happens during recess, physical education classes, field trips, lunch time, after-school sports and weekends. Children are even susceptible if they walk to and from school.
Protection begins with the right precautions. Here are some simple rules to follow:

While it is best to avoid the sun during the peak hours of 10:00 A.M. to 3:00 P.M., try to avoid direct exposure whenever possible. Teach children to seek shade or create cover with umbrellas or tents.
Apply a broad-spectrum sunscreen that will protect against both UVA and UVB radiation. Children should reapply sunscreen before heading out for lunch or outdoor sports. Parents should check with the school to see what the rules are regarding this practice.
The sun damages the eyes as well as the skin. Protect the eyes with sunglasses. Purchase glasses with labels that state they provide 100% UV protection.
Provide protection for the head, neck and ears by wearing a wide brim hat and the wider the brim, the better. Baseball caps are a poor choice because most of the face and neck are exposed. The simple act of wearing a hat can dramatically reduce the chances of skin cancer and premature aging.
Lead by example. By practicing sun safety themselves, parents will be setting a good example and encouraging their children to be sun safe.
SunGrubbies.com is an e-retailer that has been providing sun protective clothing and accessories since 1997.
They have products that have been approved and recommended by the Skin Cancer Foundation and the Melanoma International Foundation. Every product has been laboratory tested for their sun protective ability and every purchase is 100% guaranteed for satisfaction.
For more information about SunGrubbies.com and their sun protective products, check out their website at http://www.sungrubbies.com. SunGrubbies.com can be reached at their toll free phone number (888)970-1600. To join the SunGrubbies.com affiliate program, go to http://bit.ly/ifRDrH. Check them out on Facebook. Please call for showroom and hat shop hours.