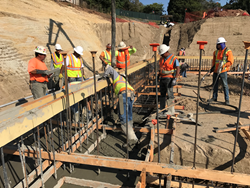 Penetron's products saved us a lot of time. It's our preferred method of waterproofing concrete for any of our projects.
EAST SETAUKET, N.Y. (PRWEB) October 11, 2018
After a construction time of just over a year, the Skyline Elementary School in Solana Beach, CA, opened in October 2018 and welcomed the children back to a the newly expanded and upgraded campus. The integral waterproofing properties and the ease-of-use of PENETRON ADMIX contributed to the on-budget completion of the project.
Solana Beach is a seaside community of over 12,000 inhabitants on Southern California's Pacific Ocean coastline and a popular destination for the beach, shopping, golfing, surfing, and nightlife, as well as a burgeoning bio-tech industry. The Skyline School was the recipient of the 2012 California Distinguished School Award and features outstanding educational programs, including the 4th-6th grade program and the Global Education K-6 program.
The new Skyline School project is built into a hillside, approximately two miles from the Pacific Ocean. The $39 million reconstruction of the elementary school facility, which was over 60 years old, now includes new classroom and administrative buildings, with 33 classrooms (the previous campus had 31), a media center, technology lab, multi-purpose building, STREAM building, and a four-classroom kindergarten building. The project also included an amphitheater, garden and lunch shelter. Both the lunch shelter and parking lot are covered by solar canopies. The new 75,300-square-foot (6,850 m2) school, located on a 10-acre campus, will serve about 550-570 students.
Keeping Construction on Schedule
"Because we were able to relocate all children off-site and didn't have to build around them, it shortened the construction timeline by about 10 months," according to Eric Davy of Davy Architecture, the project architects.
"The previous facility was completely demolished, and the new campus was rebuilt within a single school year. Skyline now welcomes the children back to a completely new campus this month," says Christopher Chen, Director of the Penetron Group. "This made it even more important to have an effective and easy-to-use waterproofing solution for the below-grade structures to help keep construction on schedule."
Easy Dosage, Easy to Use
Superior Ready Mix, the concrete supplier, added PENETRON ADMIX in soluble bags during batching, for easy dosage, to all concrete used for the retaining walls built to protect the below-grade structures of the school campus, and the basement footings and walls of the school buildings. Over 3,100 cubic yards (2,400 m3) of concrete were treated. In addition, PENEBAR SW waterstop was added to the new concrete elements to permanently seal all construction joints.
Western Rim, the project's concrete sub-contractor, also opted for PENETRON ADMIX to replace the previously used bituminous membranes that were installed on the below-grade walls. PENEBAR SW waterstop and PENECRETE MORTAR were also used to patch the snap tie holes and taper tie holes.
An Integral Solution with Lower Costs
Ultimately, the ease and simplicity of PENETRON ADMIX helped the Skyline project keep to a schedule and save project costs. Mike Domanski, Project Manager for Western Rim, added, "Penetron's products saved us a lot of time. It's our preferred method of waterproofing concrete for any of our projects."
As a crystalline admixture, PENETRON ADMIX has a catalytic reaction with moisture in fresh concrete to generate a non-soluble crystalline formation throughout the pores and capillary tracts normally found in concrete. This formation permanently seals microcracks, pores and capillaries against the penetration of water or liquids from any direction, substantially reducing the permeability of usually porous concrete. As an integral waterproofing solution, PENETRON ADMIX provides low permeability, low shrinkage and self-healing properties, a highly effective combination for exposed concrete structures.
"I've watched the project progress and wondered about the moisture issues and security of multiple story concrete-block structures built into the side of the hill," observed Dr. Nancy Giberson, former Assistant Superintendent of the San Diego Office of Education. "It's a fantastic project. Solana Beach has won multiple awards for the amazing architecture of their new schools – and this project looks to continue the trend."
The Penetron Group is a leading manufacturer of specialty construction products for concrete waterproofing, concrete repairs and floor preparation systems. The Group operates through a global network, offering support to the design and construction community through its regional offices, representatives and distribution channels.
For more information on Penetron waterproofing solutions, please visit penetron(dot)com or Facebook(dot)com/ThePenetronGroup, email CRDept(at)penetron(dot)com, or contact the Corporate Relations Department at 631-941-9700.