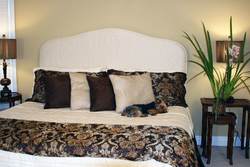 After I saw the BackDrop fabric headboard, I was amazed at the difference it made in our room. It gave our bed a designer look and I love it!
Atlanta, GA (PRWEB) January 23, 2009
When Lisa and Jim Giles decided to put their country club home up for sale late last year, they knew they were entering into a tough real estate market. So they enlisted local decorator/stager Lisa Teate of The Finishing Touch to help set their home apart from the competition.
The professional's first suggestion: de-clutter and de-personalize. "If your bedroom furniture is overwhelming the bedroom, you'll need to trim some pieces back", Ms. Teate explained. "Remember, you're selling square footage." But the Giles' missed the look and feel of their headboard. So Ms. Teate suggested the BackDrop™ Upholstered Headboard by Levinsohn Textile.
"Because these BackDrop headboards are inflatable, they provide an instant and fashionable way to stage my clients' bedroom. At the same time, they are a cost-effective way to make the room feel larger," Ms. Teate added.
Clients are at first reluctant to let go of their personal items or put furniture in storage, but once Ms. Teate's team comes in, the homeowners like the end results.
"I hated to put my beautiful antique bed in storage, but it took up too much of our master bedroom," explained Mrs. Giles. "After I saw the BackDrop fabric headboard, I was amazed at the difference it made in our room. It gave our bed a designer look and I love it!"
Other suggestions from Ms. Teate:

Start thinking about your property as a marketable product. You need to let go of your emotional attachment to your home and treat it as a product for sale.
Clear the room of family portraits and other items that say "you don't live here" to buyers. De-clutter and depersonalize.
Neutralize colors and outdated features. Think "move in ready". Do you really think cow wallpaper or 1970's paneling will translate to that? Also make repairs as needed. Fix cracks in walls, nail pops or condensation damage to window sills. Scrutinize every detail as a buyer would.
Clean, clean and clean some more. Give your home the white glove treatment. From baseboards to light switches, grout to faucets, everything must sparkle. Clean your closets of all clutter and organize them. Trash or box up old shoes and clothes.
Arrange the family room in a conversational way. Let the room breathe. If it's crowded or hard to walk through due to too much furniture, remove some items and place them in storage.
The Finishing Touch's interior designer and owner, Lisa Teate, has over 15 years of professional design experience. Her work has been featured in numerous national interior design magazines. She has worked with a broad size and price range of projects, from studio apartments to homes as large as 27,000 sq ft.
About BackDrop™ Upholstered Headboards: BackDrop™ is the revolutionary new headboard that combines an upholstered slipcover with an inflatable air cushion. This fusion of style and comfort instantly transforms the look of any bedroom, at prices that start at $79.99. The patent-pending design provides comfortable support for you and the do-it-yourself, tools-free installation completes a bedroom makeover in less than 5 minutes.
BackDrop™ upholstered headboards are sold as a complete set, including an upholstered slipcover, air cushion, electric pump, and wall tabs all in one bag. You can find the product online at Target and Bed, Bath and Beyond, or visit backdropheadboards. With many styles and fabrics to choose from, BackDrop™ Makes Your Bed!
BackDrop™ upholstered headboards are made and distributed by Levinsohn Textile Company, Inc., a 65 year old family-owned business.. For more information on our product, visit our website at http://www.backdropheadboards.com or call 724-535-7787 for customer service. For press inquiries or to request a sample of the product, contact Lisa Rayner Tush at 404-803-0611.
###