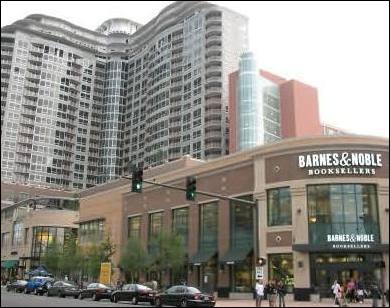 The Chicago-Area and Evanston are great markets for Backfence
Evanston, IL. (PRWEB) October 2, 2006
Backfence Inc. (Backfence.com) has launched its first community website in Evanston. This will be the first of many area launches, beginning its expansion into the Chicago-area suburbs. Sites in Skokie and Arlington Heights will follow before the end of 2006.
Evanston is also Backfence's first Midwest website. Long known as a center for civic and cultural activism, Evanston is also undergoing a downtown and neighborhood renaissance with the addition of new residential complexes, stores and businesses. Those who live or work in Evanston can use Backfence to air their views, have online conversations with neighbors, or even find the right plumber or contractor for a home repair.
"With Evanston's long ties to education, citizen participation and business innovation it made sense to launch a community-driven online resource here," said Andy Vogel, Backfence's Evanston General Manager, who will oversee the Chicago-area expansion in Evanston and other suburbs. ``It's about people talking to people online in a neighborhood that we create with each Backfence community.
Backfence.com Evanston will be the area's first community-generated news and information site. It will include blog entries by local residents, photo submissions, restaurant reviews, crime maps and more. Unlike traditional newspaper sites, Backfence.com Evanston's content will be determined by the community as they post items of importance, react to those postings, and share information about their neighborhoods.
"Backfence Evanston will be a great resource for local businesses looking to promote themselves," said Jonathan Perman, executive director of the Evanston Chamber of Commerce. ``Having a resource designed specifically for Evanston, where the entire community can contribute, will be a benefit for businesses, residents and community organizations."
"The Chicago-Area and Evanston are great markets for Backfence," said Susan DeFife, CEO of Backfence, which is based in Vienna, Va. "The people who live here are active in their communities, spend a lot of time online and want to engage with other members of their community. The community participation of local businesses, the continued revival of the downtown area as well as the excitement surrounding our launch from Chicago-Area residents were key factors in our decision to launch in Evanston."
The site, which follows Backfence's metro-market launches of local sites in the suburbs of Washington, D.C. and the San Francisco Bay Area, features local news, blogs, photographs, reviews and events contributed by members of the community.
About Backfence
Founded in 2004 by Mark Potts and Susan DeFife, Backfence (Backfence.com) has its headquarters in Vienna, Va. The company is building advertising-backed hyper local community Web sites consisting entirely of content contributed by readers. The sites provide news coverage of the communities, as well as event listings, ratings and reviews of local businesses, photo galleries, free consumer-to-consumer classifieds, and other services. Access to the sites is free, and all that is required to post information is a simple registration. Backfence is supported by local and national advertising, including display ads, enhanced Yellow Pages listings and business classified ads—all priced low enough to make purchasing an ad to reach a local community a "cash-register decision" for local businesses. Backfence launched its first sites in McLean and Reston, Va. in May 2005 and has since added sites in Bethesda, Md., Arlington, Chantilly, Ashburn, and Sterling, Va. The company has also launched sites in the San Francisco Bay Area including Palo Alto, San Mateo, and Sunnyvale. The company raised $3 million in funding in October 2005 from SAS Investors of New York, Omidyar Network of Silicon Valley, and a group of Washington-area private investors. The company has 30 employees.
Contact:
Andy Vogel, Chicago-Area General Manager, Backfence.com
(847) 205-4395
Or
Bob Reed, Chicago-Area Content Manager and Editor, Backfence.com
(847) 205-4396
###