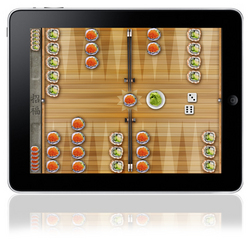 Besides, the squishy sushi sounds are just so cool!
Mill Valley, CA (PRWEB) September 16, 2010
Blur Labs LLC, a provider of visually stunning mobile applications, today announced the availability of Sushi Backgammon for the Apple iPad. With true-to-life rolling dice and free moving game pieces, Sushi Backgammon delivers incredibly realistic game play with all of the freedoms and benefits of a traditional board, but with a twist – the playing pieces are sushi. Set on a bamboo backdrop complete with chop sticks and wasabi, players battle it out with cucumber and salmon roe-topped sushi pieces.
"We like to think out-of-the-box and provide a rich visual experience within any application we develop," said Chris Renaldi, founder of Blur Labs. "And when we thought backgammon, we naturally thought sushi – it provides that visual brilliance and player appeal we love. Besides, the squishy sushi sounds are just so cool!"
But if playing with traditional Japanese cuisine doesn't wet your appetite, then Egyptian scarabs or a burlap sack theme are available for the choosing.
PRICING & AVAILABILITY
Sushi Backgammon is currently available on the iTunes store at an introductory, limited time only price of $0.99.
ABOUT BLUR LABS
Blur Labs is a mobile applications company with an overdeveloped need to deliver graphically rich and engaging user experiences. More information about Blur Labs and its products can be found at http://www.blurlabs.com
###