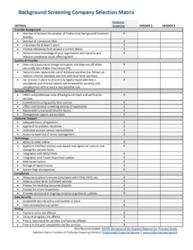 Your selection of a background screening provider can have profound impact on the quality and compliance of your employment screening program.
Purcellville, VA (PRWEB) January 12, 2012
Proforma Screening Solutions announces that it has recently released a free tool to help employers evaluate background screening companies for new or existing employment screening services. The tool, a selection matrix available in Word and PDF formats, provides an easy way to perform side by side comparisons of prospective service providers. The matrix outlines selection criteria across eight categories considered critical to the vendor selection process.
Decision makers can complete a sequence of checklists in order to compare Proforma Screening Solutions with two or more other vendors. The checklist includes criteria for assessing provider background, quality, services offered, customer support, technology, compliance, data security, and pricing. In total, the matrix includes 35 different factors across these categories.
Proforma Screening Solutions' inspiration for devising the selection matrix stemmed from the company's growing sense that there exists a significant amount of confusion when it comes to hiring a background screening company. The lure of artificially low prices offered by some providers is appealing yet employers are tempered by fears of data security and compliance requirements, resulting in a complex decision making process.
"Since an employer's choice of provider can have profound impact on the quality and compliance of their employment screening program, our goal in providing this selection matrix is to help employers hone in on what's important to make a well-informed selection decision," remarks David Lowers, President of Proforma Screening Solutions.
To view and download the background screening company selection matrix for free, visit http://www.proformascreening.com/lp/background-screening-companies-selection.php.
About Proforma Screening Solutions:
Proforma Screening Solutions is a Virginia-based talent acquisition management firm that offers integrated recruitment, employment background checks, and employee engagement solutions to employers nationwide.
# # #