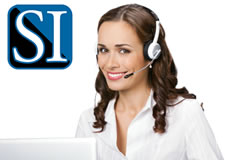 ScreeningIntelligence.com customers can now reach the company through a toll-free number.
Boston, MA (PRWEB) April 29, 2013
ScreeningIntelligence.com customers can now reach the company through a toll-free number, allowing them to ask questions and get the support they need. Anyone who needs background screening services or background screening support can now use this number to talk with a company representative.
The representatives at ScreeningIntelligence.com are skilled professionals who are knowledgeable in the employment background screening industry. They are available from 9 a.m. to 5 p.m. EDT Monday through Friday to help clients over the phone. For many customer service inquiries, e-mail is the most efficient way to provide an answer or a solution. E-mail response can take up to one business day, but most are replied to within an hour depending on the complexity of the question.
Screening Intelligence provides background checks and background screening services for clients across the country. Using Screening Intelligence Services, customers can instantly get the accurate information that they need. This allows them to make the best decisions possible for their professional lives and their personal lives. Screening Intelligence provides customized service and care for each client, ensuring that every customer has their individual needs met at a price they can afford.
The company welcomes its customers to contact ScreeningIntelligence.com representatives with any questions, comments or feedback. ScreeningIntelligence.com prides itself on its commitment to customer service, and is constantly looking for ways to improve. With a new toll-free phone number, customers can reach out in any way that they prefer.
For more information on ScreeningIntelligence.com, contact a company representative today. Customers can reach out to the company via e-mail at service(at)screeningintel(dot)com or they can call the new toll-free phone number at (877) 833-8270. Representatives are standing by, ready to assist customers with whatever their background screening support needs may be.
About ScreeningIntelligence.com
ScreeningIntelligence.com provides accurate and affordable background check solutions to help employers make informed pre-employment screening decisions. County criminal data is retrieved from thousands of local and county courts in all 50 U.S. States. Pre-employment screening and tenant screening services include: comprehensive criminal background reports, federal background reports, county background checks, sex offender registry search, national eviction reports, and social security traces.