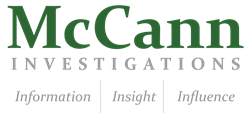 Austin, TX (PRWEB) May 25, 2014
– McCann Investigations, a Texas-based agency that specializes in digital security and private investigation services, announced that its Austin branch uses a variety of methods to conduct thorough background checks of targets in embezzlement cases.
Given the complicated nature of embezzlement, investigators must be certain that they have properly prepared themselves for an investigation, and the first step in doing that is to conduct a detailed analysis of the target's background. The information that McCann's Austin investigators uncover during this analysis will affect what types of strategies they use and information they look for in the rest of the case.
"We have developed a fine-tuned process here at McCann that truly sets us up for success in all of our Austin embezzlement cases," said Daniel Weiss, Managing Partner at McCann Investigations. "It is our pleasure to offer these services to our clients in the area."
McCann's Austin investigators work with clients to learn more about the target that they are analyzing, interviewing the client to uncover any information they already know. From there, they can move on to researching the target's criminal record, assets, employment history, possible motivations and anything else that could offer some critical evidence during the case.
The investigators have access to a variety of cutting-edge technologies as they go about these analyses, particularly when it comes to the digital forensics tools used to extract evidence from devices such as computers and mobile phones.
"Our investigators have earned the trust of the Austin business community because of their extraordinary level of service in embezzlement investigations," said Weiss. "Let us help you get past this embezzlement quickly and mitigate any damage done to your organization."
For more information about the services provided by McCann Investigations in the Austin area, visit the company's website at http://www.mccanninvestigations.com and follow the company on Twitter at @mccangi.
About McCann Investigations
McCann Investigations is a Texas-based private investigations practice focused on comprehensive investigations incorporating digital forensics, surveillance, undercover work and background checks for clients in various case types. Service areas include intellectual property theft, non-compete enforcement, fraud, embezzlement and family law. McCann Investigators are