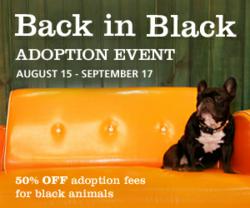 Rescue groups and shelters told us they really need help creating 'positive press' for their furry black adoptables.
Kanab, UT (PRWEB) September 08, 2011
National animal welfare organization Best Friends Animal Society® is running a pet adoption campaign "Back in Black," from Aug. 15 to Sept. 17.
Black dogs and black cats are overlooked by potential adopters and it takes creativity to get them into good homes. It's an unofficial statistic that the animal rescue community knows well, but about which the general public has no clue.
The nationwide event is being particpated in by groups in Best Friends' No More Homeless Pets® Network.
"Between antiquated myths about black dogs and cats being bad luck or somehow sinister, along with the practical reality that it difficult to get photos of these animals, rescue groups and shelters told us they really need help creating 'positive press' for their furry black adoptables," said Lavanya Raju, Best Friends coordinator.
There are 90 shelters and rescue groups in 34 contiguous states, Alaska, Hawaii and the U.S. Virgin Islands conducting local "Back in Black" campaigns and offering 50 percent off adoption fees. And at Best Friends' sanctuary in Kanab, Utah, a special spotlight is being put on its black cats and dogs.
Playing off the idea that black is the fashion basic no matter what your personal style, the campaign spotlights the special personalities and traits of black dogs and cats. Best Friends also offered to the groups tips on how to photograph black pets and conducted a photo contest for the groups on the Best Friends' Facebook page.
A few of the great stories associated with the campaign include the following:
Milwaukee Animal Rescue Center: Amy Rowell's enthusiastic "OMG! We only have one black cat remaining. Among those we've placed are a pair we've had since May and a senior (cat) that we've had since January. We're finding ourselves soliciting black cats for adoption from our partner shelters faced with euthanasia decisions...and they think we're joking! Awesome!"
All Shepherd Rescue in Baltimore, Md.: "Although a sweet and friendly dog, as with many black dogs, Charley was passed over by many would be adopters," said Candice Bagrosky. "Charley was lucky enough to be fostered by a wonderful trainer/owner of Angel K-9, who deeply loved her and wanted to find for her the right home. One day the trainer mentioned she was going to start training Charley as a diabetic alert dog … That very same night one of the first emails I opened up was from a woman who wanted to know if we had any dogs in our rescue that might be suitable to be trained for diabetic alert. I immediately emailed the woman and told her about Charley and she started the adoption process that night."
Salt Lake County Animal Services: Volunteer Ken Passarella reported that the workshop Best Friends offered on photographing black animals really paid off. "While talking with one of the adoption coordinators at Salt Lake County Animal Services, she told me a family adopted Izzy, a spayed black Lab and that the photo grabbed their attention enough to hop in the car and come down to the shelter to meet her. I was so happy! If it wasn't for the 'Back in Black' promotion, I probably wouldn't have taken Izzy out for a new photo. Thanks for getting black dogs and cats the positive publicity they so desperately deserve."
And the winners of the Best Friends "Back in Black" photo contest were:
Audrey "Tiffany" Hepburn from The Cat Network
Tallulah from A Rotta Love Plus
Bobby from Castaway Critters, The James A. Hueholt Memorial Foundation
For a complete listing of the 90 groups from 36 states and the U.S. Virgin Islands participating please visit http://backinblack.bestfriends.org.
About Best Friends Animal Society:
Best Friends Animal Society® is a nonprofit organization building no-kill programs and partnerships that will bring about a day when there are No More Homeless Pets®. The society's leading initiatives in animal care and community programs are coordinated from its Kanab, Utah, headquarters, the country's largest no-kill sanctuary. This work is made possible by the personal and financial support of a grassroots network of supporters and community partners across the nation.
Become a fan of Best Friends Animal Society on Facebook go to: http://www.facebook.com/bestfriendsanimalsociety
Follow Best Friends on Twitter: http://twitter.com/BFAS
The No More Homeless Pets® Network, a program of Best Friends Animal Society, offers help and support to animal rescue groups that save lives in their communities. The program is free and offers fundraising opportunities, adoption events, educational workshops, opportunities for grants, and volunteer recruitment assistance. Qualified 501(c)(3) organizations can apply to join at http://nmhpnetwork.bestfriends.org.
###