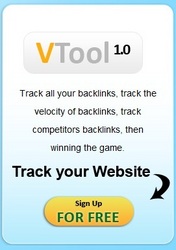 It's like any speed race only this one is measured over significantly longer periods of time. That's one of the reasons why we often refer to internet marketing, seo and its processes as a marathon
Miami, FL (PRWEB) December 16, 2009
Backlinks are one-way inbound links originating on any website and pointing directly into "your" website. Search Engines such as Google, Yahoo and Bing see backlinks as "votes" for your website based on the premise that the links are not reciprocal; that is, the link into the website is not returned or reciprocated by a link coming from your website.
In the competitive online marketplace, the number and the quality of backlinks have a strong affect and influence on the search engines, their algorithms, and ultimately the Search Engine Results Pages or SERPs. It follows then that websites are competing for backlinks that are targeted towards relevant keywords. Competing websites need to know ultimately if they are competing effectively by getting these backlinks at a faster clip (higher rate of change) than their competitor's are. New websites need to know how many backlinks they will need to become "1st page competitive" for their targeted keywords and audience.
However, serious SEO Professionals and website owners know that those on page 1 are not there by accident. In addition, they surely are not sitting on page 1 self-satisfied and doing nothing further. The fact is that they are continuing to earn valuable backlinks to maintain their high positions.
Link Velocity Tool by Optimum7 is a backlink tool that provides serious online marketers and professionals an automated way of measuring, not only the number of backlinks of their competitors, but also the rate of change from day to day. week to week or month to month of the backlinks i.e. the Backlink Growth Rate. This provides great insight as to the link velocity needed to overcome your competition. Prior to this new tool, this would need to be accomplished by manually tracking your backlinks and your competitors' backlinks and then calculating the rate of change of each site in your survey; then you would need to calculate how many more backlinks you will need over what period of time to become "search competitive" on the basis of the quantity of your backlinks.
"It's like any speed race only this one is measured over significantly longer periods of time. That's one of the reasons why we often refer to internet marketing, seo and its processes as a marathon," states Optimum7 President and CEO, Arthur Cooper. He adds, "If you are running a 26 mile marathon and you entered the race 5 minutes after it started, then you know you have to run 5 minutes faster just to get even with the starting point. If you also knew the speed of the leaders, then you could calculate exactly how much faster you need to go to catch and surpass the leaders. Link Velocity Tool provides serious online marketers the ability to actually calculate their winning speed needed to then plan the processes needed to catch and surpass their competition."
"Successful Internet Marketing Strategies are completely dependent on consistent and targeted processes to bring searcher and marketing at a common point, namely page 1 of Google and all other important search engines," claims Duran Inci, Optimum7 COO. "Link Velocity Tool will be used by those who use a consistent process of building the relevance of their websites through quality content consistently indexed on-site and professionally syndicated to generate the best and most numerous backlinks. It is not an oversimplification to say that the more backlinks you need, the more content you will need to deliver competitive results online, particularly if your competitors have a high link velocity."
Optimum7 SEM Specialist, Melissa Gonzalez, has been using the beta version already. "It's a really cool tool because from one interface you can get reports and see how you are doing vs. your competition and it provides the needed insight as to how much Backlink-generating content will be needed on a project to project basis. It's a scorecard and a project director rolled into one."
Inci points out that this is just the beginning. "We know that the software is not bug-free. More importantly we are working to improve the software's functionalities to not only measure Backlink quantity, but also to measure Backlink quality as not all backlinks are created equal and Google knows the difference and rates the backlinks accordingly. Also, and this is most important for the most competitive situations, we will improve Link Velocity Tool further to identify where the competition is actually receiving its backlinks and how to get the ones that are the most valuable. We have many further ideas and objectives with the Link Velocity Tool involving anchor text analysis, more comprehensive reporting to include new functionalities. In addition, we surely will receive feedback from users who actually use the software. We certainly don't have a monopoly on good ideas so we look forward to the comments and suggestions that are sure to come."
While the backlink monitoring tool provides new measurement and management capabilities, it can only be truly useful to those who understand and accept the fact that real commitment to Backlinks cannot be serious without a complete commitment to a consistent stream of new, non-duplicate content. Content and Backlinks are simply inseparable when it comes to SEO.
Optimum7 is an Internet Marketing Company specializing in Search Engine Marketing with special emphasis in Organic SEO. Their adjunctive services include Copywriting Services, Custom Website/Ecommerce Design and Integrated Ecommerce SEO, PPC Management, Submissions Programs, Affiliate Marketing programs, Email Marketing Programs, Website Functionality and Design, Website Consulting, Custom Packages and Programming. The company is based in Morristown, NJ with offices in Miami, FL and Izmir, Turkey.
# # #