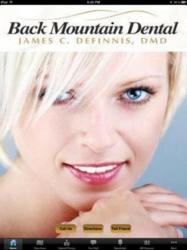 We are constantly evolving and redefining ourselves with innovative services for our patients.
Wilkes Barre, PA (PRWEB) April 30, 2012
Changing the way you feel about dentistry, the motto of Back Mountain Dental, is a very fitting one for its practice. Back Mountain Dental, owned and operated by Dr. James DeFinnis, is located at 210 Carverton Road, Trucksville. Dr. DeFinnis, along with his dental staff, creates a calm, comfortable, inviting practice for his patients and allows them to experience state-of-the-art dental services from professionals who truly care. "There is a very inviting atmosphere at Back Mountain Dental," Dr. DeFinnis explains. "There is not 'white lab coat' treating done here." Not only does Back Mountain Dental provide quality cosmetic dentistry, and is up-to-date with the latest cosmetic procedures, Dr. DeFinnis, 38, is one of only a few local general dentists who specializes in Intravenous (IV) Sedation Dentistry. He has been certified and licensed by the state. According to a study published in the Journal of the American Dental Association, approximately 35 million Americans experience significant apprehension about dental procedures. Plus, an extra 10 to 12 million are considered to be 'dental phobic,' and avoid needed dental care altogether.
Sedation dentistry is a faster, extremely safe, as well as effective, efficient way of dentistry for people who have a fear of the dentist. IV Sedation is a technique used by specially trained dentists like Dr. DeFinnis to keep patients comfortably sedated throughout an entire appointment. Medication is administered through an IV. Patients relax in a controlled, comfortable environment. While a nurse anesthetist makes sure the patient is well monitored, sedated, and at ease, Dr. DeFinnis provides the dentistry. A patient's vital signs are constantly monitored throughout the appointment by a team of multiple professionals who are highly trained in safety and emergency procedures. Any healthy adult over the age of 18 is able to receive IV Sedation for their dental procedure.
Dr. James DeFinnis has received advanced training designed to increase the safety and effectiveness of the sedation. Dr. DeFinnis often attends courses around the country, keeping current on the latest dentistry techniques. He participates in continuing education courses on a regular basis and covers a variety of current dental procedures.
Another feature which makes Back Mountain Dental unique is that it is one of only a few local practices which offer CEREC, a process that restores crowns and veneers in about two hours. With two Blue Cam CEREC machines, Dr. DeFinnis can make dental crowns and replace fillings chairside. CEREC allows the dentist to produce an indirect ceramic dental restoration using computer-assisted technology.
Back Mountain Dental is in touch with its patients by having a connected mobile environment. With more than five billion cell phone users, they know having a mobile web presence is the future for their practice. That's why they developed a Back Mountain Dental Mobile App so their patients can stayed connected with them 24/7. It features GPS driving direction, one touch calling feature, important information/specials, testimonials, before and after photos, videos and the share button so their patients can share Back Mountain Dental with their friends and family via email, Facebook or Twitter. "Our biggest referral source is from our patients telling others about us and that's a huge compliment," Dr. DeFinnis states. Another feature of the APP is an impressive 'Smile Store'. It displays a variety of dental supplies that patients can purchase, such as electric toothbrushes, teeth whiteners, breath remedies and decay prevention products. Items are conveniently shipped to the customer's home. The store is also located on their website backmountaindental.com. The public can search for "Back Mountain Dental" on iTunes and the Android market and download the application.
"We are all about educating the public about the dentistry that is out there today," Dr. Definnis stated. "We are very connected to the mobile world through e-mail, text messages, Facebook, blogging and Twitter to keep up with today's modern person. We are constantly evolving and redefining ourselves with innovative services for our patients."
Dr. DeFinnis and his staff, along with his wife, Jodee, who is responsible for his online presence, are team dedicated. "I have a great team backing me," Dr. DeFinnis stated. "The girls are all very well qualified, and we are all on the same page of care we provide." Dr. DeFinnis credits his wife, Jodee, in helping him achieve his dentistry goals. "Jodee shares in my vision of the kind of practice I want to have, and she assists the practice in making it unique," he said. "She is my strongest backer."
Dr. DeFinnis was born and raised in Berwick, PA. After graduating from Berwick High School, he attended Bucknell University, receiving his Bachelor of Science degree with a major in economics and a science minor. In 1999, he graduated from Temple University School of Dentistry. Dr. DeFinnis resides in Shavertown with his wife and their three young daughters.
Back Mountain Dental is accepting new patients and accepts most major insurance plans. The practice has normal hours of operation Monday through Thursday, and specialty cases are seen on Fridays and Saturdays. The office telephone number is 696-1105.