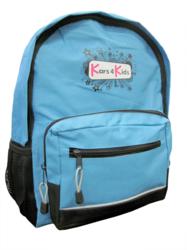 It's a privilege to be able to do our small part, along with our wonderful partners, to help these families and their children
Brooklyn, NY (PRWEB) August 28, 2012
Kars4Kids launched its Mega Back-to-School Charity Bash today with a live backpack giveaway in Manhattan. The giveaway is the first of a week-long series of charity events that the educational charity will be holding across the city in advance of the new school year.
Kars4Kids, in conjunction with Councilwoman Melissa Mark-Viverito, distributed 400 backpacks at the annual "Speak up, Speak out, Take Action" Teen Fair in East Harlem. The giveaway began in the early afternoon with scores of people lining up for their free backpacks.
Over the course of the week, Kars4Kids will be giving out close to 4,000 backpacks to New York's school children, in an effort to relieve the stress of staggering back-to-school expenses for struggling families. "There are so many hard-working families out there that just can't make ends meet in this economy," a Kars4Kids spokeswoman said. "It's a privilege to be able to do our small part, along with our wonderful partners, to help these families and their children."
Among the local politicians and community leaders partnering with Kars4Kids are New York Congressman Ed Towns and Councilman Ruben Wills. Kars4Kids is working closely with local officials in each of the locations where they will be holding giveaway events.
As a nonprofit whose mission is to open doors for children through education, the Kars4Kids Mega Back-to-School Charity Bash is just one of many initiatives designed to give the gift of a solid education to more children. Children who come to school properly equipped with the school supplies they need and can feel proud to own are better able to focus on their studies and succeed in class. Kars4Kids is glad to be able to provide this opportunity to thousands of New York's students.
For more information on Kars4Kids' many social and educational programs, visit http://www.kars4kids.org/charity. For news on upcoming events, follow them on Facebook and Twitter.