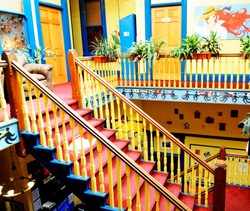 "To be awarded the #1, #2, and #4 spots in a country of 300 hostels is simply amazing."
San Diego (PRWEB) February 4, 2010
Three of USA Hostels' locations were recently named the nation's top hostels for 2009 at Hostelworld.com's annual HOSCAR awards in Dublin, Ireland. Popular with backpackers and other budget-minded travelers, the independent hostel chain's San Diego, San Francisco and Hollywood locations captured the coveted #1, #2 and #4 places, respectively. Additionally, the company was recognized as the sixth highest rated hostel chain worldwide.
Hostelworld.com's HOSCAR awards recognize the best hostels in the world as rated by more than 1 million customers in 2009. Customers review the accommodations on six criteria: Character, Security, Location, Staff, Fun, and Cleanliness. Approximately 300 accommodations in the United States and 23,000 worldwide are listed on Hostelworld.com.
"We are very honored to receive these awards, especially since the results are based solely on reviews by our guests," said David Reuter, founder and president of USA Hostels. "To be awarded the #1, #2, and #4 spots among more than 300 locations is simply amazing. I could not be more proud of all our staff who truly earned this recognition."
"Hostel customers now have higher expectations than budget travelers of even five years ago. So the quality and sophistication of successful hostels today must meet this expectation." He continued, "Customer-generated feedback on sites like Hostelworld is quickly becoming more important to our guests than colorful brochures and advertising. And positive customer reviews can not bought, they must be earned. To remain successful we continually focus on improving our facilities, operations, and customer service."
In 2009, the company's California locations completed a number of upgrades including bathroom and dorm room renovations, the opening of a 50-seat theatre in the San Francisco location, a redesign of the Hollywood location's lobby and all new beds in the San Diego location. All locations continued ongoing customer service training and added more guest activities.
USA Hostels operates high-quality budget accommodations in Hollywood, San Diego, and San Francisco and Las Vegas. Founded in San Diego in 1994, the company offers a choice of shared dormitory rooms or private rooms to independent travelers from all over the globe. Each hostel in the chain provides a wide range of activities throughout each week, discounted tickets to area attractions, as well as free breakfast and free WiFi.
Backpackers and other travelers may also find more information at http://www.usahostels.com.
# # #